Ferrari 250 GT California Spyder SWB - Best Ferraris ever
Stunning looks, race car tech and a starring role in a cult movie put the California on our list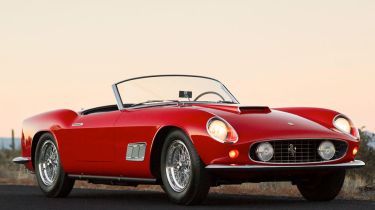 Years: 1960-1961Engine: 3.0-litre V12, 276bhpTransmission: Five-speed manual, rear-wheel driveTop speed: 140mph (est)Number built: 55Current value: £14million
While the 250 GT was primarily a sports racing car, it did spawn a line of desirable roadgoing models, too. These used the same running gear as the racers, largely based around Ferrari's light-yet-powerful Colombo V12, although the road cars were equipped with luxuries such as plush leather and carpets to make them more civilised for regular street use.
Among the most desirable variants of the 250 GT series are the California convertibles - you only have to look at the auction prices of these cars to see that. While the modern California T pays homage to the California in name, it can't really compare with its famous namesake. The California came in long and short wheelbase guises, with 50 LWB and 55 SWB models built, and both cars had bodywork created by styling house Scaglietti.
While the later car is slightly more numerous, it's the more desirable car and fetches higher prices. That's partly because it has a slightly sharper look, while its disc brakes and 276bhp Colombo V12 were lifted from the successful 250 GT SWB racing car.
But its appearance in 1986 cult classic movie Ferris Bueller's Day Off has also helped to raised its profile as one of the most desirable convertible Ferraris of all. Of course, the 'Ferrari' in the film was a fibreglass replica that was based on MG running gear, which is a good job, because it was sacrificed towards the end of the movie through a plate glass window into the woods below.
As of today, the 250 GT California Spyder SWB ranks alongside the 250 GTO and Testa Rossa as one of the most desirable Ferraris of all. Radio DJ Chris Evans paid £5.5million in 2008 for a California previously owned by film star James Coburn, while another example sold in 2016 for a hefty £17million.