Ferrari F12berlinetta - Best Ferraris ever
The F12 is the current pinnacle of Ferrari's front-engined, rear-drive V12 supercars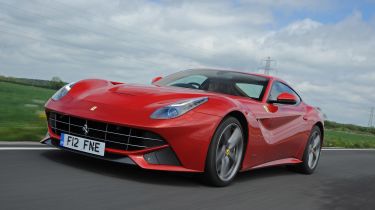 Years: 2012-presentEngine: 6.3-litre V12, 730bhpTransmission: Seven-speed twin-clutch, rear-wheel driveTop speed: 211mphNumber built: Still in productionCurrent value: £241,000
Twelve-cylinder engines play a big part in the history of Ferrari, so it stands to reason that the firm's current range should feature V12 power. In the past, Ferrari has toyed with flat-12s, as seen in the 512BB, Testarossa and some of its F1 cars, while the Colombo V12 was a staple of the range from Ferrari's first car in 1947 all the way to the mid-1970s. V12 power has been used in a number of the firm's F1 cars, too, and there's no sound quite like the screaming 3.5-litre V12 used in the Scuderia's cars of the mid-1990s.
Ferrari's current range-topping front-engined sports car is the F12berlinetta. It arrived in 2012 as the replacement for the 599 GTB, but used more Formula One inspired technology than ever before. While a naturally aspirated V12 is about as far away as you can get from an F1 engine these days, there are plenty of electronics on the F12 that are directly inspired by its grand prix cars. The seven-speed gearbox delivers lightning-fast electronically controlled gear changes, while the adaptive dampers and assorted electronic controls for the steering, gearbox, throttle and suspension are directly inspired by modern F1 technology.
The F12berlinetta also features cutting-edge aerodynamics to keep it glued to the road, just like an F1 car. The under-body aero creates enough downforce to eliminate the need for wings and spoilers up top, giving the F12 a crisp angular look to go with its sharp drive.
If that's not enough for you, the hardcore F12tdf gets a bespoke new look, more power and reduced weight to deliver an even more focused performance, while Ferrari has also built a handful of one-off specials based on the F12 for moneyed buyers who want the most exclusive Ferrari they can buy.
And now the ultimate evolution of the F12 has been revealed in the shape of the 812 Superfast, which has a whopping 789bhp.