Fiat 500S review
Sporty looks, cheap to run and fun to drive, the Fiat 500S is one of the best city cars on sale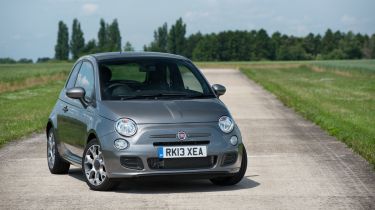 If you want Abarth looks and the cute character of the standard Fiat 500, then the sporty 500S is well worth a look.
With a new version of the 500 coming in 2016, it's no wonder Fiat introduced the well-specced, sporty looking 500S model to its 500 line up to keep buyers interested in its loveable little city car.
Only available as a three-door, the Fiat 500S is the sportiest 'regular' 500 and starts at around £11,000 for the smallest engine in the 500S range, the 1.2-litre 69bhp petrol. Every Fiat 500S comes with a sports package as standard, which includes 500S logo embossed sports seats, a top rear spoiler, a chrome exhaust and red and chrome gear knob. In short, it looks like a warm version of the range-topping and rapid Abarth 500.
In addition to the sporty bodykit, Fiat further draws on the 500 Abarth hot hatch as inspiration and gives the 500S its sports steering wheel, which also gets audio controls. Fiat gives the 500S 15-inch alloy wheels, tinted windows and chrome door handles as part of the standard package.
Despite its sporty exterior and Abarth influenced interior, the engines are the same petrol units as found in the regular Pop, Colour and Lounge Fiat 500s . Fiat offers the 500S with a choice of three engines - the lest powerful 1.2-litre 69bhp, the 875cc 0.9-litre TwinAir with 85bhp and the most the 1.3-litre 16-valve MultiJet with 95bhp.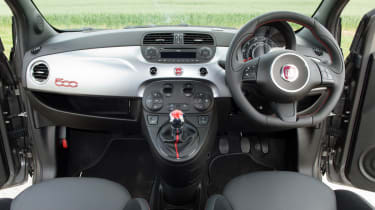 Our choice of engine for the Fiat 500S would be the 0.9-litre TwinAir engine. The unit feels punchy, and in addition to returning a combined cycle of 70.6mpg, it is also exempt from road tax as a result of its 92g of CO2 emissions.
The Fiat 500S is a nice place to sit, thanks to its Abarth steering wheel and the red stitching on its sports seats. Like the rest of the 500S, however, the seats are purely for show and do not support you when going around corners. Unfortunately, like the rest of the 500 range, the 500S is susceptible to body roll.
Taller drivers should also avoid opting for the sunroof on their Fiat 500S, as it impinges on headroom as a result of its small dimensions and rather high driving position.
Like the rest of the Fiat 500 range, the 500S will be cheap to run and cheap to insure. However, in our 2013 Driver Power Survey, the 500 finished 142nd out of the 150 top-ranked cars. Even worse for Fiat, was that dealers ranked 30th of 32.