'The new Ford Capri should be another great, fun car with the Blue Oval badge'
Editor-in-chief Steve Fowler is pleased to see the Capri name return, even if it is on a new coupe-crossover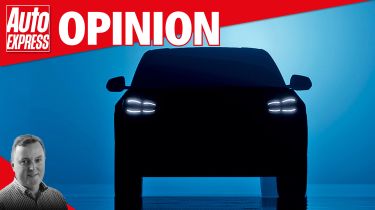 It's fair to say that a comeback for the Ford Capri has been touted a good few times over the years, not least here on Auto Express. But now we know – if not officially – that one of the brand's most-loved nameplates is set to return, albeit on a very different car from the original.
Ford's recent teaser image of a quad-headlamped coupé-crossover actually shows what will become next year's new Capri. Sure, there will be many old misty-eyed enthusiasts who will moan that it's not true to the original, especially when it comes to price. But Ford has a wealth of charismatic car names, so why not reinvent them on new models? It's worked for the Puma and Kuga (with a spelling change for the latter), while the Bronco has had an incredible comeback in the US.
For me, Capri is just a great car name. And I think the model it ends up on – previewed by our exclusive image – could be another great, fun Ford.
Why am I so confident? I recently managed to get a look at the new Ford Explorer – the car that will donate its running gear and interior to the new Capri. And I have to say, it looks way better in the metal than in the pictures. I was impressed by its proportions, some delightful design details and the lovely interior. It, too, takes a name from Ford's rich back catalogue.
So things bode well for the new Capri – and having that name alone will guarantee the new car plenty of coverage and generate interest among old Capri fans and those who could be set to become new ones.
Choosing a new car name is massively difficult, as proven by the questionable ones we see that are as difficult to spell as they are to remember. It's one reason new brands – like Polestar, for example – are sticking with numbers. So which Ford name should return next: Ka? Sierra? Probe? Let me – and Ford – know what you think.
Click here for our list of the best electric SUVs on sale right now?