Mountune releases performance upgrade for the Focus RS
Mountune's latest performance kit adds more functionality to the Ford Focus RS and extracts almost 400bhp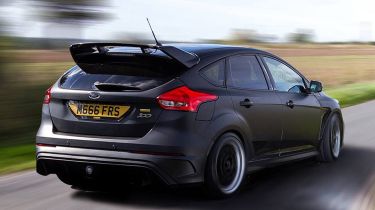 Mountune has released two new performance upgrades for the Ford Focus RS called the m400R and m400X. Both tunes claim to offer large increases in performance, using the Focus RS's standard turbocharger and a handful of bolt-on engine modifications.
The m400R is a firmware update for the company's old m400 tune, adding more functions such as an adjustable RPM limit, a valet mode, full-time launch control and support for full-throttle gear changes. It's available as a free upgrade to owners of the outgoing m400 tune, or to new buyers for £495.
To maintain the Focus RS's warranty Mountune recommends that buyers install a few supporting modifications for the m400R remap. Extras include an induction kit, an uprated turbo recirculation valve, a larger air-to-air intercooler and a three-inch sports exhaust.
Although not strictly necessary for the m400R tune, for the sake of reliability, Mountune also suggests that buyers fit their engines with forged pistons, stronger bearings, uprated conrods, stronger head studs and a baffled engine sump.
Mountune offers two packages, including all the engine upgrades mentioned here. The upgraded engine ancillaries cost £4,160, while the stronger internals retail for £4,750. Both prices include the cost of fitting and the m400R engine remap.
Should buyers install all the supporting mods, Mountune's m400R remap claims to reliably deliver 395bhp and 560Nm of torque, which is around 50bhp and 120Nm more than the factory-delivered tune.
For those chasing more performance, Mountune also offers a new m400X tune. It includes all the functionality updates from the m400R and retains the same peak performance figures. However, m400X-tuned Focus RS's develop peak power and torque for longer in the engine's rev-range.
As such, there's more stress on the engine, so Mountune strongly advises customers to opt for both engine upgrade packages, and suggests fitting narrower-gapped spark plugs. On top of the £8,910 for the engine modifications, the m400X remap costs £407.50 fitted.
Now read our review of the Ford Focus RS. Let us know your thoughts in the comments section below…