Police Ford Mustangs could join the fleet of UK forces
The 410bhp V8 Ford Mustang is being assessed by police forces in the UK for use on the road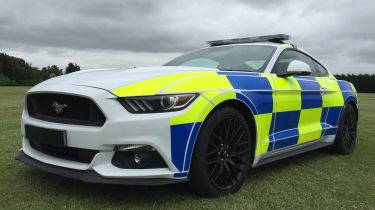 Police in the UK could start using the new Ford Mustang on the roads, with one example already wearing the familiar battenberg livery. It's for display purposes only, but the black model also seen in these pictures is actually being trialled by the police.
The white show car is apparently a pre-production model, but has been treated to the police livery for the National Association of Police Fleet Managers trade fair.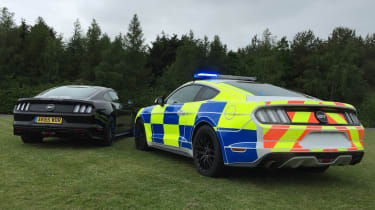 The logic behind using a Mustang on the police fleet is sound, too, and follows US police forces that have been using the car for decades. With a 410bhp V8 engine under the bonnet and a price tag of £34,995, the Mustang would be an affordable performance car for high-speed pursuits.
• Police cars: the world's best and worst
It also fits with the large number of Ford police cars across UK forces, so servicing and maintenance costs would be lower than an equivalent car from another manufacturer.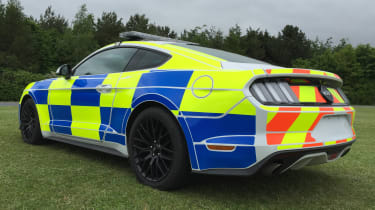 It's not quite as crazy as the Ariel Atom police car displayed by the Avon and Somerset police force, but we'd still love to see the car on the road. The officers likely won't mind driving them, either...
What would make the best police car in the world? Let us know what you think below...