Ford S-MAX Vignale concept revealed
Ford S-MAX concept gets an ultra-luxurious Vignale makeover, and you'll be able to buy one next year
BMW beware, Ford is moving deep into premium territory with its new Vignale sub-brand. We were first introduced to the idea of an ultra-luxurious Ford with the Mondeo Vignale concept last year, and now Ford has given the same upmarket makeover to the new Ford S-MAX.
Although the new S-MAX doesn't actually go on sale until early 2015, Ford has confirmed that Vignale version of the new Mondeo and S-MAX will go on sale in 2015 offering Ford customers a whole new level of customer service, along with upgraded exterior and interior detailing.
Revealed at the Salone del Mobile, the world's biggest furniture design show, in Milan this week, the S-MAX Vignale Concept is identified on the outside by 21-inch alloy wheels, chrome mirror caps and the same hexagonal grille mesh as the Mondeo Vignale. A unique Milano Grigio paint colou, as well as dark rose grey detailing around the exhausts complete the exterior.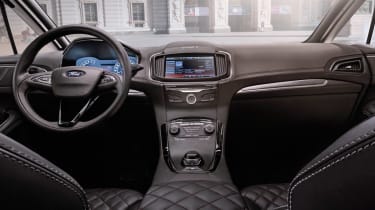 On the inside the cabin is swathed in dark leather, stitched into a quilted pattern on all the seats, and extended right across the dashboard and instrument panel. Also included are tablet docking stations for rear passengers, while a specially designed Vignale travel bag is now available.
Ford claims its motivation for launching the Vignale brand is the fact that half of all its large cars are sold in top-spec trim. It says over ten per cent of customers want an even higher level of specification, too, a void Vignale is designed to fill.
Customer experience will be top of the agenda, with every Vignale customer receiving assigned a personal 'relationship manager' and for any servicing or repairs the car will be collected and delivered to the customer's house. Selected dealerships throughout Europe will feature Vignale lounges too – the design of which was previewed on Ford's Salone del Mobile show stand.