New electric Ford Transit van teased ahead of 2021 debut
The new, fully-electric Ford Transit van has been teased ahead of its European debut in 2021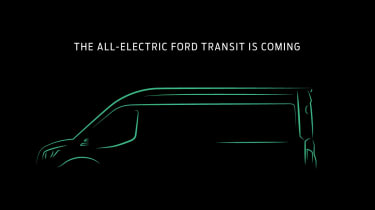 The new, battery-electric (BEV) Ford Transit has been teased for the first time, with the van set to go on sale in Europe late in 2021.
Ford has confirmed that the electric Transit will be offered in cargo van, cutaway and chassis cab body styles, with three roof heights and body lengths offered. Ford is also promising "uncompromised cargo capability", suggesting that the vehicle's battery will not have an impact on rear load space.
No performance details have been confirmed at this stage. The plug-in hybrid version of the Transit features a 13.6kWh battery that affords up to 35 miles of zero-emissions range, so an electric model will far exceed those figures.
Range will remain modest, however, with the van aimed at 'last mile' delivery businesses in urban environments. The electric Transit will be a rival for the new Mercedes eSprinter, which uses a 55kWh battery in top-spec form, which allows a real-world range of 93 miles on a single charge.
While specs and payload figures remain under wraps for now, Ford has confirmed that the electric Transit will be "smart and connected", offering a 4G wi-fi connection for up to 10 devices at any given time
A host of driver safety aids have also been confirmed, including pre-collision assistance, automatic emergency braking and pedestrian detection, forward collision warning, post-collision braking and lane-keep assistance. Automatic headlights will also be offered.
Businesses will also be able to track vans via GPS, impose geofencing restrictions remotely, and monitor driver performance and efficiency.
UK prices will be confirmed at a later date, but we'd expect them to be significantly higher than the £39,345 figure currently attached to the Transit Custom PHEV.
Would you be tempted to buy an electric Ford Transit van for your company? Tell us in the comments section below...