'Patience will be key to Genesis' success in Europe'
Andy Palmer hopes Hyundai gives the Genesis brand time to mature when it arrives in Europe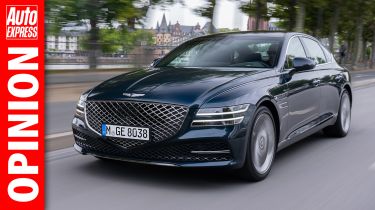 History has taught us to never underestimate Hyundai Motor Company's ability to deliver on its ambitions. This has never been truer as I sit here and ponder the future of the new Genesis brand in the premium automotive market, a segment I know well from my time heading up Nissan's 'Infiniti' brand.
Broadly speaking, the global car market is divided into four tiers, 'entry' (Dacia etc.), 'mass' (Ford etc.), 'premium' (BMW etc.) and 'luxury' (Rolls-Royce etc.). There are few examples of brands moving up a tier, although plenty of them being relegated. Past performance teaches us that it is a gargantuan challenge to create a truly mass-market premium brand.
The history books are peppered with failed attempts. Whether it be Lincoln, Cadillac, Acura, Infiniti, Maserati, or even Lexus, none has achieved the cache of BMW and Mercedes.
The closest, perhaps, is Audi from within the VW Group, and therein lies the secret playbook for Genesis to follow.   
Being 'premium' means acting differently from 'mass' at every level and few manufacturers are prepared to do that. At Nissan, I regularly faced pressure to "shift a few more cars" at the end of each quarter to help the Group's earnings. Of course, this became code for discounting prices and wholesaling vehicles into the sales network without a corresponding retail sale.
Ultimately, this damages the residual values of the cars and thus the brand. I'm sure the Genesis management will face similar pressures to "accept cost saving synergies" from the Hyundai parts bin, or sell a few more units by discounting the wholesales. The key to Genesis's success will be the ability to insulate management from these pressures and for the Hyundai main board to be patient in allowing the brand to mature. So far at least, the signs are good.
Click here to take a closer at the new Genesis GV70 SUV...