Genesis eyeing-up electric sports cars
Hyundai's premium arm is looking at the business case for electric sports cars, but has ruled out a high-performance sub–brand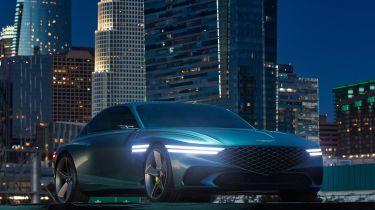 Genesis is looking at expanding its electric car lineup with a series of high-power flagships that provide "effortless" performance in-keeping with the brand's "luxury and lifestyle" aspirations, Auto Express has learned.
Following a trio of recent concept cars – the Genesis X Concept, the Genesis X Speedium Coupe Concept and the Genesis X Convertible Concept – the brand's top-level management has said it is looking into the feasibility of high-performance electric sports cars designed to sit alongside the company's current range of saloons and SUVs. 
However, head of product planning, Mark Choi, suggests any such models would form part of the core line-up, rather than being separated off in the same way Hyundai has with its hardcore N-badged variants.
"We're not looking to create a high-performance sub-brand or anything like that," Choi said. "We have recently decided on a product identity called 'effortless' – something that can be enjoyable, but something that has the power and performance that satisfies the customer experience in the luxury field and lifestyle."
Chief brand officer Graeme Russell followed this by saying: "The reaction [to Genesis X] from the wider media audience, investors, dealers and partners, has all been extremely positive. So from a brand perspective and a desirability perspective, we clearly believe there is an opportunity.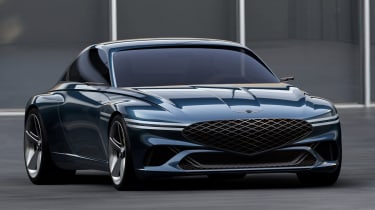 "We ask if it's possible, if it's feasible, how we position it and everything else. That's the stage we're at," he said. "I would love to see any one of our Genesis X trilogy come to life; there's desire for all three, but whether all three are possible is another story. Watch this space."
Genesis is planning to only launch electric cars from 2025, on the way to having a "full-EV lineup by 2030-2031". The maker's design language will evolve from the middle of this decade, shying away from the traditional combustion-engined styling and introducing new bodyshapes – possibly including the aforementioned supermini and sports cars.
"It wouldn't be particularly original for us if we were doing minor changes or if we perhaps were carrying over bodystyles," Russell said. "I think there is a confidence from design that we can be progressive and audacious. We have a clear strategy – you maintain momentum by maintaining desirability."
Choi said: "We are going to become electrified, with dedicated electric models – and the styling will reflect that. The electrified models; aerodynamics, frontal area, packaging. It almost asks to be unique so I'm pretty sure you will not see any ICE-vehicle resemblance."
Elsewhere, Genesis has confirmed it is looking at whether now is the right time to launch a luxury small car, possibly based on 2019's Mint concept car, first shown at the New York Motor Show. 
"We are looking into a smaller model for the European market. But the time is to be determined," Choi said.
Now read more about the new Genesis GV80 Coupe...