Genesis GV80 fuel-cell SUV concept revealed at New York
Genesis GV80 hints at future BMW X5 rival from Hyundai's luxury car wing, and commits firm to developing alternative propulsion powertrains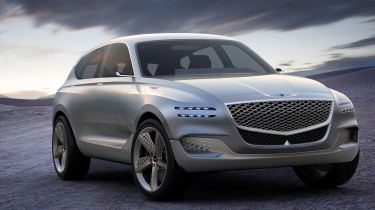 Genesis – Hyundai's luxury car wing – has revealed a new plug-in fuel cell SUV concept at the New York Motor Show, which the company says "glimpses into the bold future of Genesis' design and product development".
While the GV80 previews the firm's future design direction, it also hints that the brand is brewing up a BMW X5 rival, which will be the first SUV released under the Genesis name.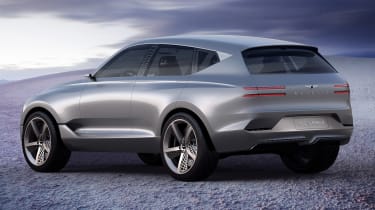 The front end of the GV80 showcases Genesis' signature crest grille, while the slightly rounded form factor of the SUV is out of step with many other new SUV concepts, which have chased angular, rakish profiles. Twin, horizontal LED headlights feature at the front – a design copied by the taillights, and the door-handles are recessed into the bodywork to give the GV80 a smooth profile. It rides on 23-inch five-spoke 'mesh' alloy wheels.
Inside, the cockpit is fitted with a wide 'bridge' style dashboard curving round and stretching from door to door, and a large 22-inch widescreen display sits on top of it.
Propelling the GV80 is a plug-in hydrogen fuel-cell powertrain. No details regarding performance or range have been revealed, though the company promises that the car is a demonstration of how it will continue to develop alternative propulsion systems in the future.
What do you think of Genesis GV80 concept? Let us know in the comments below.