New Honda Augmented Driving Concept reinvents the steering wheel
Honda's autonomous Augmented Driving Concept is designed to ease the transition towards self-driving vehicles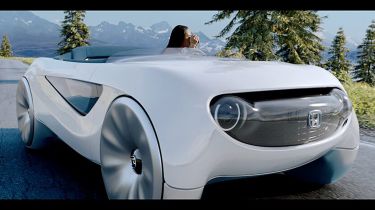 Honda has launched the Augmented Driving Concept at this year's Consumer Electronics Show in Las Vegas. It's a roofless four-seat autonomous vehicle which has been designed to preview the transition towards self-driving vehicles.
Honda's brief for the concept was to create a vehicle which can free the user from the task of driving, allowing them to relax on their journey. However, it still retains a method for the driver to experience the joy of driving.
• Driverless cars: everything you need to know
The Augmented Driving Concept features a stripped-back control system, based around a "reinvented" steering wheel which controls most of the car's functions. Drivers start the vehicle by tapping the steering wheel twice – while pushing and pulling the wheel will accelerate and decelerate the vehicle respectively.
The concept can transition from autonomous to semi-autonomous mode with a manual switch and there are eight selectable driving modes with varying degrees of autonomous control.
The car's autonomous driving mode is also always ready to assume control of the vehicle, with an array of sensors in the cabin constantly monitoring the driver's intentions and actions.
What do you make of Honda's Augmented Driving Concept? Let us now in the comments section below…