Honda Civic Type-R to get 2.0 turbo engine
The next Civic Type-R will be powered by a 300bhp 2.0-litre turbocharged engine, Auto Express has learned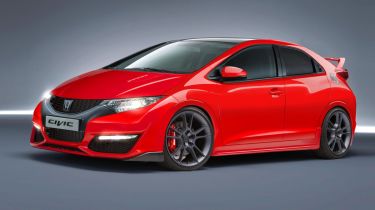 The next-generation Honda Civic Type-R will be powered by a 2.0-litre turbocharged engine that could produce as much as 300bhp, according to Yasuhisa Arai from Honda's R&D centre.
Previous reports suggested it would use a development of Honda's 1.6-litre motorsport engine, but Arai told Auto Express that a 2.0-litre capacity was necessary to ensure the Type R could be more powerful than the Renaultsport Megane 265.
Honda is using the Megane as the benchmark and has pledged that the new Civic Type R will beat the 265's Nurburgring lap record for a front-wheel-drive car when it arrives in 2015.
Arai said: "We have an idea of the products our rivals are developing and regardless of what anyone else produces, our car will be the fastest front-wheel-drive model around the Nurburgring when it goes on sale. And we will do whatever we need to in order to make that happen."
What's more, Arai said that despite using turbo power he hoped the engine would still offer the top-end rush of the old naturally-aspirated VTEC Type-R engine. Honda is also investigating a trick suspension set-up that should help minimize torque steer and a range of other performance-boosting enhancements.
These include fitting a mechanical limited-slip differential and maybe even rear-wheel steering (although this would mean redesigning the standard Civic's torsion beam rear suspension setup). The firm has just showcased its new Precision All-Wheel steer at an event in Tochigi Japan, which we tested on a US-market Accord.
The system boosts cornering speeds and turns both rear wheels inwards slightly under hard braking to stop it weaving around.
The only issue is cost. Honda UK wants the new Civic Type-R to start from no more than £25,000 to make sure it is competitive on price. But is it really possible to achieve both this target and the lap record? Time will tell...