Honda Civic Tourer video review
A video review of the Honda Civic Tourer, set to be unveiled at the Frankfurt Motor Show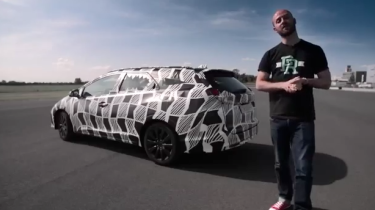 In this video we review a pre-production prototype of the new Civic Tourer, which has been designed by Honda Europe.
We tested the 1.6-litre D-TEC engine version - the 2.2-litre diesel is probably going to be dropped from the Tourer range.
A longer roofline means there's now more headroom in the back, and - unlike the five-door - there's no spoiler across the rear screen so visibility has been improved. Honda wouldn't give us the exact figure for boot size, but expect it to be over 600-litres.
It comes with ADS suspension, which is a new adaptive damping system that comes in three different modes - normal, comfort and dynamic mode. It makes a difference too - we drove the Civic Tourer on the Autobahn in comfort mode, and there was a significant reduction in the amount of bump in the springs in the front and back of the car.
While this is only an early drive of a pre-production Civic Tourer, it's a very promising car, with class-leading boot space, innovative features and a clever suspension system making an enticing package. Let's hope it will be priced close enough to rivals such as the Skoda Octavia.