Honda Civic Type R vs CBR1000RR Fireblade SP - car vs bike track battle video
Which is better: two wheels or four? We invite two of Honda's fastest pro racers to help us find out...
Until the new NSX arrives next year, the third-generation Civic Type R is the fastest road car Honda makes. But Honda doesn't just build cars. In fact, the Japanese giant started off selling motorcyles, and is now the world's biggest maker of two-wheelers.
So we decided to put Honda's current fastest road car up against its fastest motorcycle: the CBR1000 RR Fireblade SP. Obviously, this being a car mag, no one on our team has the necessary skills to push this performance machine to its limits. So Honda offered to help by providing the services of its British Superbike racer, Dan Linfoot.
However, it felt a bit unfair to have a professional racer on the bike and not in the car. So we asked British Touring Car Championship legend Matt Neal from Honda Yuasa Racing to take part, too. Both racers were given a few laps to reacquaint themselves with their machines and the track – the Rockingham International Circuit in Northants.
Matt said: "My BTCC car has a 2.0-litre turbo with around 360bhp, depending on the circuit. It's stripped out and so a lot lighter [than the road car], plus there's much lower gearing, whereas the Type R has all the creature comforts and less power with 306bhp for greater reliability. Still, for a road car it's pretty incredible on track."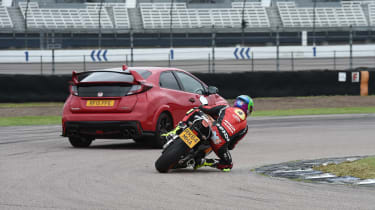 It was the same for Dan. "The SP just feels softer than my BSB bike. Its suspension and brakes are just more forgiving. And this plus the road tyres mean you can't push it as hard round a circuit. And with 178bhp it's down over 30 horses, too – but blimey, it's probably still as fast as race bikes from just over a couple of decades ago."
With all the excuses out of the way, it was time to race. But we wanted the challenge to be fair. The bike has a serious advantage with its superior power-to-weight ratio of 848bhp/tonne compared to the car's 221bhp/tonne.
Dan predicted: "Really, out of a corner and down the straight the Civic doesn't stand a chance, even though it has a top speed of 167mph."
Had it been raining, the contest would have been even as the Type R would have been able to make up time under braking and in corners, thanks to its four-wheel grip. It was bone dry, though, so to make things interesting, we decided to give Matt a head start. Having seen the bike in the warm-up laps, he said: "I think, with a 10-second head start, I should be able to have him."
Would Dan accept? "That 10 seconds is going to seem like an awfully long time as I'm sat there on the starting line," he told us. "But hey, I still reckon I can win."
So which Honda came out on top? Watch the video to find out...
Fast Hondas Special