New Honda NSX supercar spied at the 'Ring
Reborn Honda NSX has been spotted testing at the Nurburgring in Germany, with the hybrid supercar due in 2015
Our intrepid spy photographers have spotted a production prototype of the reborn Honda NSX testing at the Nurburgring, with a company spokesperson confirming the drive was "part of its development and testing programme".
These shots of the new hybrid supercar reveal a number of striking similarities to the most recent concept that debuted early last year at the Detroit Motor Show. Although toned down, the arrow-like nose and massive trapezoidal air inlets have been carried over, and moving further back there's the same distinctive flying buttresses. 
From the rear, the C-shaped lights – connected at the top by a full-length, horizontal brake light – are another big giveaway. The only obvious differences we can make out on this admittedly heavily camouflaged test mule is a slightly less streamlined roofline, a more pronounced rear spoiler, plus wider headlights and redesigned wing mirrors.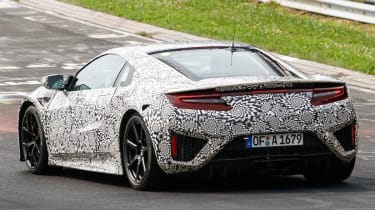 We already know Honda's plans for under the skin of the car - the brand previewed the NSX's innovative hybrid powertrain at this year's Geneva Motor Show. Housed within a lightweight body, a longitudinally-mounted direct-injection V6 petrol engine drives the rear wheels, boosted by an electric motor that's built into the newly developed dual-clutch gearbox.
There's also another two electric motors for the front axle, which can independently vary the amount of torque applied to sharpen handling. Honda calls the configuration its Sport Hybrid SH-AWD (Super Handling All-Wheel Drive) and is aiming for a combined petrol-electric power output of over 400bhp.
• Latest news on the new Honda Civic Type R
Production will take place at the Japanese manufacturer's brand-new factory in Ohio, USA. Called the Performance Manufacturing Centre, it measures in at 184,000 square feet and cost $70million (£42m) to build. Later in the car's lifecycle, this is also where a track-focused Type R variant, and an NSX convertible, are likely to be built.
An official debut for the standard car is expected early next year, possibly at the Detroit Motor Show in January, prior to a summer 2015 UK launch. Honda is believed to be aiming for a starting price around the £100,000 mark, which will see the NSX line up against the recently-launched BMW i8 and forthcoming second-generation Audi R8.
The new Honda NSX has been a long time coming but now the production version isn't far off. Are you excited? Tell us how excited in the comments section below...