Hyundai Santa Fe gets extreme makeover for SEMA 2017
Rockstar Moab Extreme Concept adds nitrous oxide, chunky tyres and camouflage paint to Hyundai Santa Fe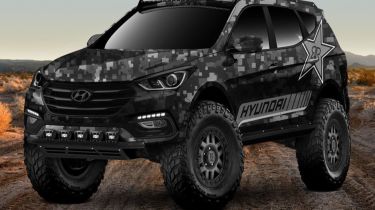 Hyundai has unveiled an extreme off-road variant of its Santa Fe SUV ahead of this year's SEMA Show in Las Vegas on the 31 October.
The Korean manufacturer released hardcore variants of its SUVs at SEMA in 2015 and 2016. This year's concept is called the 'Rockstar Moab Extreme Concept' due to Hyundai America's partnership with energy drinks company Rockstar - the Moab is in reference to the area in Utah that is considered one of the world's most challenging off-road regions.
As it's a SEMA showcar, the Rockstar Moab Extreme Concept comes with plenty of modifications. A nitrous oxide system has been fitted by Nitrous Express to give the Hyundai some extra boost. Coil-over suspension, six-piston front brakes and chunky off-road tyres have also been fitted to the car.
The SUV sports Hyundai and Rockstar decals amidst a digital camouflage paint scheme to give the Santa Fe based concept more of an extreme, rugged feel. The roof rack comes from Rockstar's Performance Garage division and is fitted with a two-bar LED light system. The model won't go into production.
This year's SEMA shown Las Vegas runs from 31 October to 3 November.
Will the Rockstar Moab Extreme Concept steal the show at SEMA? Let us know what you think in the comments...