Hyundai Tucson - best crossovers
The Tucson name is back with a classy looking crossover that's practical, too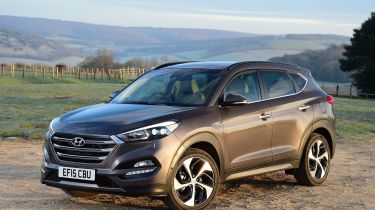 Looking like a smaller version of the bigger Santa Fe SUV, the Hyundai Tucson has an imposing and upmarket feel that belies the badge.
That's true on the outside anyway, although the interior isn't quite as stylish as a Renault Kadjar's. But what the Tucson gives away in style it makes up for in practicality, as the interior is large enough to embarrass some of its crossover rivals. In fact it's among the class leaders for passenger and luggage space, and can easily accommodate three adults in the rear.
It's also very well screwed together inside, with fit and finish that's improved to the point of being competitive with VW. The layout is straightforward too, and there's an impressive touchscreen infotainment system on SE models and beyond.
You can buy petrol and diesel versions, but we'd give the former a wide berth and stick to the frugal and smooth diesel options. If you take our advice that means a choice of 113bhp 1.7-litre and 182bhp 2.0-litre models, and if you're looking for value the 1.7-litre with front-wheel-drive is the best option. It's powerful enough, and although the 2.0 has more grunt while still nicely refined, it only comes in higher trim specs, so can look pricey. The 1.7-litre returns 61.7mpg against the 2.0-litre's 59mpg, so economy is good for both.