Infiniti FX vs Range Rover Sport
Updated Infiniti FX takes on the Range Rover Sport to decide which rules the luxury SUV market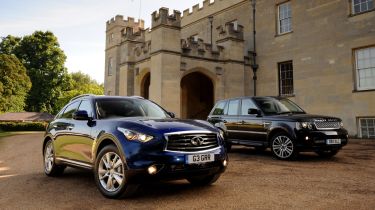 The Infiniti FX has been flying the flag for Nissan's premium brand in the UK as it struggles to get a foothold in a class dominated by upper-crust European rivals.
The SUV has been Infiniti's best-selling model in Europe for four years on the trot, but the maker isn't resting on its laurels: it's now launched a facelifted version of the rugged range-topper.
Fresh looks have been inspired by Infiniti's recent motor show concepts, while some new colour and trim options add to the car's appeal. So does top-notch build quality and a range of muscular engines. We test the FX30d in top S Premium trim. It's the most driver-focused diesel in the line-up and comes overflowing with standard kit.
Yet the FX isn't the only sporty SUV that's recently been treated to a makeover. The Range Rover Sport was given a thorough update for 2012, including a power hike for its twin-turbo V6 diesel, a new eight-speed gearbox and higher specification. It's due to be replaced next year, so can the current model still cut it against the upstart opposition from Infiniti?