Infiniti Q50 Eau Rouge unveiled
Updated: First official pictures of F1-inspired Infiniti Q50 Eau Rouge Detroit Motor Show concept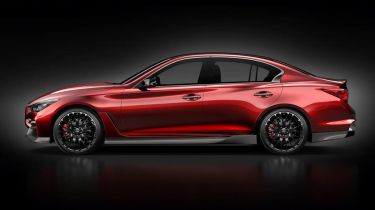 These are the first official pictures of the Infiniti Q50 Eau Rouge concept that will make its debut at the Detroit Motor Show on January 13.
Details are limited, but Infiniti has said that the Q50 Eau Rouge 'draws inspiration for aerodynamic design from the technical collaboration between Infiniti and four-time Formula One World Champions Infiniti Red Bull Racing.'
To that end, although the Eau Rouge looks similar to the regular Q50 saloon, all of the major bodywork components have been redesigned with aerodynamics in mind. In fact, Infiniti has announced that only the roof and door profiles remain unchanged from the production Q50.
What's more, the new bodywork is manufactured from carbon fibre, further reinforcing the link between the concept and F1 technology.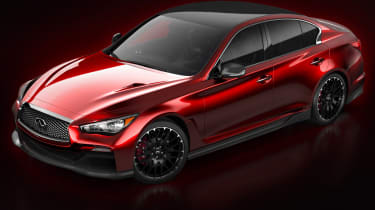 At the front, the Q50 Eau Rouge has a deep, sculpted carbon fibre front bumper with huge air intakes and integrated daytime running lights. Although there's no word as to what powers the car, the bonnet now features a pair of sleek air vents.
At the side, there are carbon fibre side sill skirts, plus a carbon blade behind the front wheels to help smooth the flow of air down the side of the car.
The roof and door mirror casings are also made from carbon fibre, while the concept also features some intricate 21-inch lightweight forged alloy wheels that hide some pretty hefty looking Brembo brakes.
Infiniti has also confirmed the car has a dual-exit sports exhaust and an integrated rear spoiler and diffuser.
The Q50 concept was styled by Infiniti's design team, led by Executive Design Director Alfonso Albaisa, who said: "From our shared passion for performance with Infiniti Red Bull Racing grew a collective desire to produce a vision of what a high-performance Infiniti Q50 could look like."
"The design has a number of distinctive Formula One inspired touches. In particular, the sculpted front wing assembly and the rear aerodynamic packaging take their cues from the RB9 race car," added Albaisa.
The car's public debut will be at the Detroit Motor Show. However, Infiniti has created a special online microsite at unveil.infiniti.com, where the car will debut earlier.
However, this is dependent on social media activity – the more shared views and comments through social media channels like Twitter (hashtag #F1Q50), Facebook and Weibo that are accumulated, the quicker the car will be virtually 'built.'