Infiniti Q50 to get new 395bhp 3.0-litre V6
Updates for the Infiniti Q50 saloon include a powerful new engine plus steering and suspension upgrades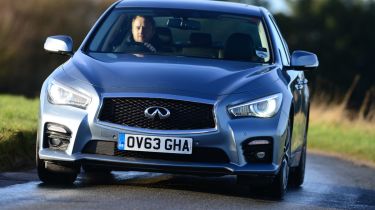 A round of 2016 updates have been announced for the Infiniti Q50 saloon, including a new range-topping twin-turbo 3.0-litre V6 petrol engine with 395bhp.
This new engine will make the Q50 the most powerful Infiniti yet – but it's also said to be the brand's most fuel efficient V6 to date. It joins the existing 2.0-litre petrol, 2.2-litre diesel and the Hybrid (which uses a 3.5-litre petrol V6 and an electric motor) in the Q50 line-up.
With close to 400bhp, the new range-topping V6 Q50 won't quite rival the BMW M3 – Infiniti is planning a performance division to take care of that – but rather cars like the Mercedes C 450 AMG Sport, which bridges the gap between the standard models and the hardcore variants. It's more powerful than the Merc though, which has 362bhp from its own 3.0-litre V6.
The updated Q50 will also get a new steering system. It's the second-generation adaptive electronic steering system for the car, and Infiniti says it will feel more like a conventional power steering system, with more feedback and steering feel.
You can control the steering with a range of settings, with the Standard, Snow, Eco and Sport modes carried over from the current car, with two new modes to choose from in 2016; Sport+ and Personal. The latter allows you to fine-tune the steering to allow the driver to find the right set-up specifically for them.
Alongside the updated steering system, the Q50 will also get 'Dynamic Digital Suspension', which is an adaptive system that lets the driver choose from a number of settings. In Sport and Sport+ modes the car stiffens up, and the car can also adapt on the fly to improve body roll in corners and absorb bumps in the road.
What do you think of the idea of a 395bhp V6 for the Q50? Let us know below...