'Jaguar needs to build on its EV momentum'
The British brand needs to capitalise on the progress it's made with the electric I-Pace, writes John McIlroy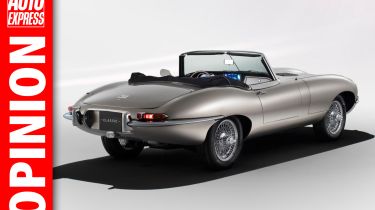 The beautifully manicured greens and fairways of the Pebble Beach golf course are a world away from the hustle and bustle of the UK's roads and streets – and yet there was much to take note of at the American classic car event at the end of last week.
BMW gave us the all-new Z4 in production form, while Audi and Mercedes looked further ahead with all-electric concept cars. Jaguar joined in, too, revealing that its electric E-Type will be offered to customers from next year, at a price conservatively estimated to be north of £300,000.
• Electric Jaguar E-Type to go into production
However, the British firm isn't about to stop there. Its engineers are working on a mid-engined replacement for the modern-day F-Type sports car – a vehicle that will incorporate a hybrid powertrain and, potentially, full electrification.
These are important times in the market for cars that plug in, with a land-grab to assume control of the moral high ground and, among premium manufacturers, the position of 'credible rival to Tesla'. Jaguar is right at the forefront of that race, of course, with our 2018 Car of the Year, the I-Pace, racking up orders ahead of the arrivals in 2019 of Audi's e-tron and the Mercedes EQ C.
What Jaguar needs to do now, though, is build on the I-Pace's momentum and deliver a strong push to electrify the rest of its range, bridging the gap between the SUV and whatever the F-Type becomes.
The process should start, we reckon, with a fully electric next generation of the XJ, taking the limo into the next 50 years. Offering eco-friendly running in a classic E-Type is one thing. But a luxury car with the ability to glide silently around city centres would be even more of a statement.
Check out the best electric cars on sale right now…