JLR will not be sold to any manufacturer, says CEO
JLR will not be sold to any other car manufacturing group despite recent news reports according to CEO Dr Ralph Speth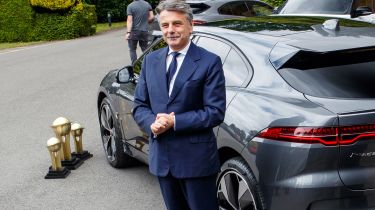 Jaguar Land Rover has given its strongest indication yet that the company will not be sold to Peugeot-Citroen, Fiat-Chrysler, Hyundai-Kia or any other motor manufacturing groups hoping to buy their way into the premium car and luxury SUV markets.
Dr Ralph Speth, JLR's CEO, concedes that his British-based company is currently going through a financially tough period. But there are many good reasons for this - including the politically-driven collapse of diesel car sales that he has, in the past, relied so heavily on; multi-billion pound spending on cleaner future products; plus massive construction works and other investments in his UK and overseas plants.
• JLR employees could move to a four-day week
Speth also pointed out that the likes of Peugeot-Citroen and Fiat-Chrysler have suffered extremely worrying financial problems of their own in the recent past when, ironically, he says JLR could afford to buy them if it wanted to.  
"Today it's very simple. Jaguar Land Rover is not for sale," Speth assured me over a World Car Awards lunch at Ashorne Hill, JLR's country house and training centre.
"We are owned by TATA of India. This is the way things will stay. TATA - with Jaguar and Land Rover - is a leader, producing leading products that have won a total of six World Car Awards in the last three years."
Dr Speth is looking forward to welcoming TATA's godfather, Ratan Tata, plus other senior members of the clan to the British Midlands this summer. These hugely powerful industrialists are expected to view and give the production go-ahead for several Jaguar and Land Rover products (including a mini Land Rover) destined for the showrooms of Britain and the rest of the world in the mid to long-term future.
Meanwhile, Jaguar Design Director Ian Callum CBE who's due to retire from JLR on June 28 insists that at 64 he still has plenty of automotive and non-automotive design ideas and ambitions. Significantly, he did not shy away from my suggestion that he might go as far as forming his very own Callum Car Company which could build the first-ever Callum-badged car in strictly limited volumes.
Do you think JLR would be better to stay independent? Let us know in the comments below...