'The government isn't doing enough to encourage electric car sales'
The government needs to do more to encourage people to both build and buy electric cars, says Steve Fowler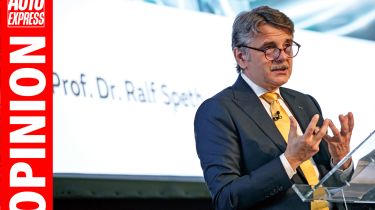 As a title that follows the news agenda, we make no excuses for the amount of space we dedicate to electrified cars in Auto Express. It's where we're headed, whether we like it or not. Or at least that's what our government keeps telling us. 
That being the case, I'm not alone in airing my frustration that our legislators aren't doing more to encourage both British expertise in the area of electric vehicles and more people to buy them.
One man who is clearly frustrated is Jaguar Land Rover CEO, Ralf Speth. I know from conversations we've had in the past that he feels more should be done on charging infrastructure, for example. And speaking at the announcement that JLR was investing hundreds of millions of pounds on building electrified cars at its Castle Bromwich plant in the Midlands, he went further.
"The opportunities presented by an Autonomous, Connected, Electric and Shared future reach far beyond the automotive sector," said Speth. "The UK has among the best academics and creative talent globally, and we must now leverage this to take advantage of the technology revolution happening around the world.
"Jaguar Land Rover is playing its part, putting in place a carefully considered electrified manufacturing footprint in the West Midlands to support the creation of next-generation vehicles and technologies. But our vision can only be realised if we bring together industry, government and academia to create the ecosystem in which customers, suppliers and communities can embrace the future of mobility."
I've not agreed with everything Speth has said or done over the years, but I couldn't agree more with him now. The UK has a golden opportunity to lead not only in the technologies that are changing rapidly but also on their adoption. Car makers are doing their bit and buyers are keen. But it needs government support to make it happen.
Do you agree with Steve's thoughts about the future of electric cars in the UK? Let us know your thoughts in the comments below...