Jaguar Land Rover to build electric cars in the UK
The new push on an EV future as seen in the Jaguar I-Pace concept could mean up to 10,000 new jobs for JLR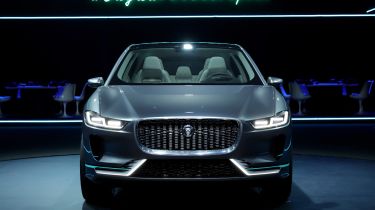 Jaguar Land Rover boss Ralf Speth has said that he wants the brand's future range of electric vehicles to be manufactured in the UK. It's a move that could create up to 10,000 new jobs at the company, a report in the Financial Times has suggested.
In a speech addressed to automotive leaders and politicians, Speth said his ambition was to double JLR's production to around 1million vehicles by the end of the decade. However, this would only be possible if JLR was able to overcome 'infrastructure and capacity issues'.
• New Jaguar I-Pace to get SVR treatment
In the same time frame, JLR has also said that it wants at least half of its vehicle to be made available with the option of some sort of electrification.
JLR demonstrated its push towards electric vehicles with the I-Pace concept at the recent Los Angeles Motor Show. The production version will arrive in 2018 but will be built in Graz, Austria. Beating the electric SUV into showrooms, though, will be plug-in hybrid versions of the Range Rover and Range Rover Sport.
The news comes as a further boost the UK automotive manufacturing industry and follows on from Nissan's decision to expand production at its UK facility in Sunderland despite Britain's decision to leave the European Union.
What do you think of the news? Let us know below...