New seven-seat SUV to join Grand Cherokee in growing Jeep range
A new seven-seat Jeep SUV will sit above the Grand Cherokee and below the new Wagoneer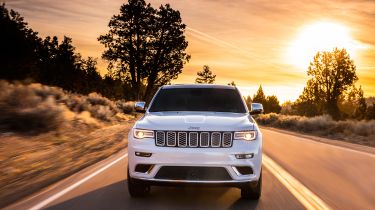 Jeep's growth is set to continue at pace with FCA boss (and still Jeep head) Mike Manley confirming that a new seven-seat model will be launched as well as the often-rumoured, bigger, Wagoneer model.
"We've made some announcements for investments in our US plants, which are really important for us because that brings two additional products to our Jeep portfolio, segments that frankly I've wanted to be in for a long time," said Manley. "One is the large SUV segment. There are relatively few competitors in there, but it could be a great segment for Jeep and we'll bring back the Grand Wagoneer at that time. 
• Best 4x4s and SUVs to buy now
"Then the second is a three row Jeep, which will technically play in the same segment as Grand Cherokee. Roughly 60% of that segment is three row, so Grand Cherokee has really only played in 40%. That will open up that part of the segment for us."
The new three-row SUV will sit alongside a new Grand Cherokee model, but is unlikely to wear the iconic nameplate.
"We'll have the choice of Grand Cherokee or a different model," said Manley. "For me, the Grand Cherokee is such an icon, so that's why I talk about [the new model] as a three row Jeep.
"It's like if I dramatically changed what Wrangler looked like – I'd be crucified! Grand Cherokee, interestingly, has a customer base that loves it because it's got rear-wheel drive, well-positioned stance, and dimensionally it's perfect."
All three new models are expected to appear some time in 2019, after Jeep has launched its Gladiator pick-up. And with plug-in power for the Renegade and Compass models starring for Jeep at the 2019 Geneva Motor Show, expect hybrid power to feature in Wagoneer, Grand Cherokee and the new three-row model, too.
Is there room in the Jeep range for a 7-seater? Let us know your thoughts in the comments section...