Kia Sorento - best 4x4s and SUVs
The Kia Sorento offers a comfortable, seven-seat interior and good 4x4 ability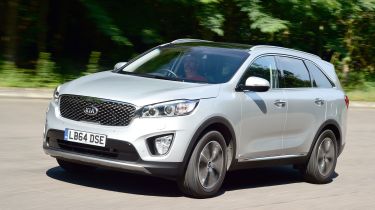 If a modern SUV wants to push itself into the upper echelons of greatness, it needs to provide far more than just off-road grip. What the Kia Sorento offers is a massive loading area and seven seats, making it a great family car for buyers wanting something beyond a boxy MPV.
The Sorento starts from around £29,000 and rises to £41,000 for the top-spec KX-4 auto. However, it's actually relatively good value when you consider the standard kit on offer. All models are very well equipped, and if you go for a mid-spec KX-3, you get xenon lights, a panoramic roof, electric leather seats, heated seats front and rear, a heated steering wheel, a power tailgate and keyless entry. Most rivals reserve this sort of kit for the options list.
All models are powered by a 197bhp 2.2 CRDi diesel, which also delivers a healthy 422Nm of torque from 1,800rpm. That makes it ideal for towing, and manual models are capable of hauling 2.5 tonnes, so most caravans and trailers can be pulled with ease. 
What about the Sorento's off-road ability? Well, it has full-time 4WD, and the fully automatic system will distribute power to the wheels that need it most in the event of a loss of grip. There's no low-range box, but first gear in the manual model is quite short, and the auto version is well suited to off-road use – just watch out for that relatively low front apron and long rear overhang when heading for the hills. Permanent 4WD does harm the Sorento's running costs, but not many SUVs are as well equipped or capable for the price.
Best SUVs and 4x4s 2017
2. Volvo XC60
3. Skoda Kodiaq
4. BMW X3
6. Volvo XC90
7. Kia Sorento
8. Peugeot 3008
9. Skoda Karoq
10. Tesla Model X