Kia Sportage - best crossovers
The Sportage delivers style, kit and reliability backed by a seven-year warranty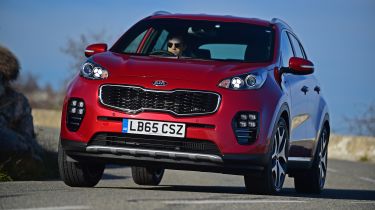 This is the fourth generation of Kia Sportage, but thankfully it's light years away from its rough and ready Mazda-based early ancestor. Nowadays the Sportage is a serious contender in the refined crossover sector, and it's built on the same floorpan as the Hyundai Tucson.
Kia, like its parent company Hyundai, has pedalled furiously to improve its brand image in recent years, and the Sportage certainly feels like one of the best screwed-together vehicles in its class.
It's pretty good to drive too, with a comfortable ride and accurate steering, and it offers the same smooth and flexible diesel engines as its Tucson sister car – as well as the less desirable petrol options. As with the Tucson, the Sportage range's best economy figure of 61.4mpg comes from the 1.7 diesel, but neither can match the 74mpg of the Renault Kadjar and Nissan Qashqai.
The Sportage offers good accommodation for five adults too, and when you throw in good value pricing with high equipment levels, reasonable depreciation and Kia's industry-leading seven-year warranty, the numbers definitely start to add up.
We've left the styling until last, as there are certainly some drivers who don't find the latest update to the Sportage's design entirely to their taste. Others will enjoy the striking lines, which are an evolutionary update of the previous generation, with plump wheelarches and a sloping roofline.