Electric Kia Stinger GT to rival Tesla Model 3
New Kia Stinger GT car is ready for battery tech, but diesel and four-wheel drive will be added first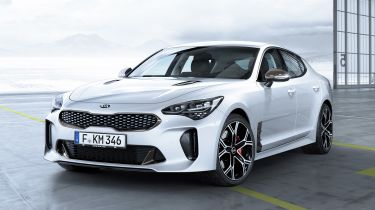 The new Kia Stinger, launched at the 2017 Detroit Motor Show, is likely to feature an all-electric model that will rival Tesla's forthcoming Model 3 saloon.
The sleek new five-door GT will be launched with a 3.3-litre V6, followed by 2.0-litre petrol and then a 2.0-litre diesel model. But assuming the reaction to the Stinger is good, then the all-electric version will get the go-ahead.
• Full story on the new Kia Stinger
Speaking exclusively to Auto Express at the Stinger's unveiling on the eve of the Detroit show, Spencer Cho, Kia's head of overseas marketing, said: "This all-new platform is capable of a full EV powertrain at a later date."
The 365bhp V6 model arrives this October with the 252bhp 2.0-litre petrol engine coming early in 2018, to be followed a few months later by a diesel version with a development of Kia's existing 2.0-litre diesel engine. That means an all-electric version is unlikely to be seen much before the end of 2018 or more likely 2019.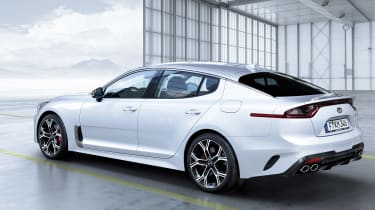 Spencer Cho promised that the Stinger would have plenty of tech on board at launch, with more to come. He told us: "We are working on level three and level four autonomous technology and the Stinger is a good platform to add some of that technology to. "We're carefully evaluating this technology before we put it into our cars, though."
Kia's engineering boss, Albert Biermann, has also confirmed that a four-wheel drive version of the Stinger is also on the way, to battle the likes of the BMW 4 Series Gran Coupé X Drive models and Quattro versions of Audi's new A5.
Prices for the V6 Stinger are likely to start at around the £40,000 mark with a fully-loaded model costing around £43,000. The 2.0-litre petrol should cost from around £35,000 with the diesel set to be somewhere in the high thirties.
Would you consider an electric Kia Stinger? Let us know in the comments section below...