Used Audi A5 (Mk1, 2007-2016) review
With efficient engines and attractive design, the Audi A5 is a stylish two-door coupe to rival the new BMW 4 Series
Verdict
While Audis of this vintage were often criticised for their disappointing dynamics, the A5 was better; it is still very enjoyable to drive, as well as great to look at and well built. Opt for a car with the optional Sport package and the handling is even better, but comfort is adversely affected, so try before you buy. Indeed, before you buy any A5 you need to make sure it has the right engine, gearbox, wheels and suspension. Get it wrong and you might wonder what all the fuss is about, but get it right and the chances are you'll want to keep your A5 forever.
Which one should I buy?
Best Audi A5 for equipment: 2.0 TDI Black Edition
Best Audi A5 for fuel economy: 2.0 TDI Ultra SE
Best Audi A5 for performance: RS5
The 3.0 TDI has four-wheel drive as standard, but these cars can be costly to run. The best all-rounder is the 2.0 TDI, which is economical, torquey and smooth. The 2.7 TDI offers a half-way house but is available only with the CVT auto gearbox.
At launch, the entry-level A5 came with 17-inch alloys, a space-saver spare wheel, leather trim, 10-speaker hi-fi, xenon headlights, three-zone climate control, rear parking sensors plus electrically heated and adjustable door mirrors. The Sport added lower, stiffer suspension, more supportive seats and 18-inch wheels. Leather, the 10-speaker audio system and tri-zone climate were later dropped from entry-level cars and reserved for the SE, launched in spring 2009. 
What are the alternatives?
The BMW 3 Series isn't any roomier than the A5, but it's better to drive. Build quality is superb and engine choices are wide-ranging; there's also a choice of coupe or coupe-cabriolet bodystyles. The Mercedes E-Class Coupe and Cabriolet offer excellent build quality and some superb engines, with refinement and reliability.
These German cars are costly to buy and run, especially if you purchase something with a high spec. If your budget won't stretch to this there are a couple of more left-field choices; the Peugeot 407 and Renault Laguna Coupes don't have the Audi's cachet, cabin or quality, but they're great value, unusual and worth a look.
Mercedes C-Class Coupe vs Audi A5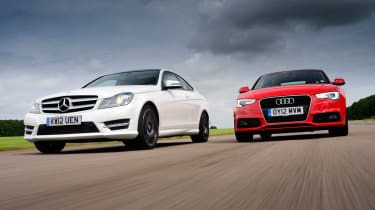 On paper, the Mercedes C-Class Coupe looked destined to win this battle. However, despite its upmarket cabin and smart styling, the Mercedes was let down by its engines, which allowed the Audi A5 to grab victory. We applauded its engines, low running costs and grippy chassis. Read the full test here...
BMW 5 Series GT vs Range Rover Sport vs Audi A5 Sportback vs Infiniti EX 37 G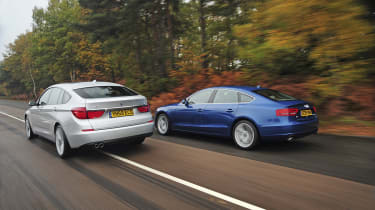 This is an interesting one, because the Audi A5 Sportback was the only car to beat the BMW 5 Series GT. While both the Range Rover Sport and Infiniti EX 37 GT were found wanting, the Audi's punchy performance and low running costs edged it ahead of its German rival. Read the full test here...
Audi A5 Sportback vs VW Passat CC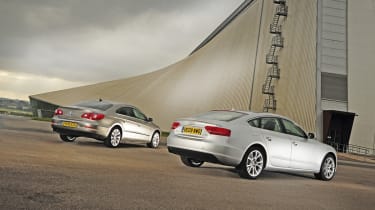 The Audi A5 Sportback also won this battle of the German coupes, but by the narrowest of margins. We liked the Passat's curves, ride quality and low cost, but it couldn't match the Audi's practicality, low emissions and strong residuals. Read the full test here...