BMW 5 Series GT vs rivals
With no direct rivals, is the way clear for BMW's new 5-Series GT to clean up in the sales chart? We see how it compares to three very different alternatives...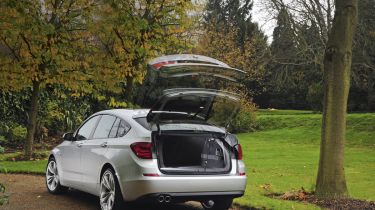 First came the Skoda Superb, and now a premium brand is trying to get in on the twin-opening tailgate craze.
The new 5-Series GT takes the prestige and comfort of BMW's saloons and adds a swooping rear end, taller ride height and that flexible new tailgate. Its clever bootlid can be opened like that of a hatchback or a saloon, so it caters for all tastes.
Distinctive looks aim to capture the imagination of buyers who want something different, and the BMW has no direct competitor in its sights. So, to find out how it rates, we've drawn together a trio of models for one of our unique triple twin tests.
In its first head-to-head, the BMW faces an unfamiliar foe. Infiniti is new to the UK market, and the EX37 GT is a crossover SUV that trades on its looks. It's available only with petrol power, although it undercuts the BMW on price and makes a real statement on the road.
Next up is the Audi A5 Sportback. The new hatch sounds like a close match for the GT, even though it's smaller and cheaper. It serves up practicality on a par with the BMW, and this flagship 3.0-litre TDI quattro model also delivers similar power. Plus, the sleek newcomer is the pin-up for the executive car sector at the moment.
The final contender is the revised Range Rover Sport. A big boot and prestige image make it a practical and classy family choice, while even the jacked-up 5-Series is dwarfed by the big Brit's 4x4 body.
This comes at a price, though, because the Range Rover costs £10,000 more. Will it prove to be worth it, or does the BMW do enough to come out on top? We hit the town, country and motorway to find out...
Verdict
Trying to put a label on the BMW 5-Series GT is a fruitless exercise, as it doesn't fit into traditional class boundaries. But it is enormously capable. Spacious, distinctive and luxurious, it's a fine alternative to all the usual suspects in the executive car sector. A brilliant diesel engine and impressive dynamics make it a model with few compromises.
1st: BMW 530d GT while the Infiniti sells on its looks, the BMW is more stylish, plus roomier and more comfortable. Polished dynamics, a torquey and economical oil-burner and lower emissions hand it a clear victory.
2nd: Infiniti EX37 We can't think of many new cars that demand so many trade-offs. It makes a statement, but with no diesels and a cramped cabin, plus a dealer network still in its infancy, the thirsty EX has limited appeal.
BMW vs Audi
1st: A5 Sportback The 3.0 TDI doesn't show the A5 in its best light. Yet its punchy performance and refinement are nearly a match for the BMW, and it's considerably cheaper for private and company drivers.
2nd: BMW 530d GT To look the part, you need to spec your BMW carefully – as dark colours and smaller wheels do it few favours. The Audi is stylish regardless, although the GT is the more luxurious choice.
BMW vs Range Rover
1st: BMW 530d GT If you want to be different and don't need off-road ability, the BMW is the perfect alternative. It doesn't sacrifice practicality, rides higher than a traditional exec saloon and drives superbly.
2nd: Range Rover sport You pay for the Range Rover's distinctive design and trademark driving position – in terms of price and running costs. But the feeling of invincibility behind the wheel stills holds enormous appeal.