Mercedes C-Class Coupe vs Audi A5
The latest Mercedes C-Class Coupe mixes good looks with low running costs. Can it beat the Audi A5?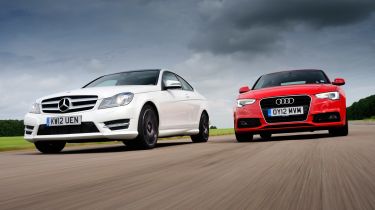 If you thought premium-badged four-seater coupes cost the earth, then think again. The latest generation of stylish and upmarket models is designed to be cost-effective to run as well as impressive to look at.
Leading the charge is the Mercedes C-Class Coupe, featuring the 1.6-litre turbocharged petrol engine from the forthcoming new A-Class. With 152bhp and CO2 emissions of 149g/km when fitted with a manual gearbox, the direct-injection engine is more efficient yet just as powerful as its 1.8-litre predecessor.
Adding to the car's appeal is new AMG Sport Plus trim, which brings extra style courtesy of a neat bodykit and upgraded interior. We test it with the slick seven-speed automatic gearbox, which pushes the price up by £1,500 to £32,590.
Yet the C-Class is not the only entry-level coupe out to prove you can combine style with low running costs. The recently revised Audi A5 has plenty of head-turning ability, while its 168bhp 1.8-litre turbo engine emits just 134g/km of CO2. In desirable £30,565 S line specification, the car undercuts the manual version of the C-Class by £525.
So, which of our sleek and efficient four-seaters offers more style for less spend?
Verdict
For many buyers, a coupe is a car you choose with your heart rather than your head. Yet these days, it's no longer possible to ignore running costs when making any purchase – including coupes. So which one of our pair of classy two-doors will prove to be as easy on the wallet as it is on the eye?
On paper, the Mercedes C-Class certainly has what it takes to succeed. It's good to drive, looks great and boasts a refined, upmarket cabin. Yet it's let down by its engine, which doesn't deliver the expected performance and efficiency gains over the one it replaces. And although the racy bodykit and alloys of our Sport Plus model help it look the part, the C-Class is expensive.
Recent revisions have kept the Audi A5 looking fresh – especially in S line form. And while it can't quite match the Mercedes for head-turning appeal, in almost every other respect, the A5 has the upper hand. Its 1.8-litre turbo engine is the star of the show, providing a winning blend of effortless performance and surprisingly low running costs. Plus, although the Audi isn't quite as refined as its rival in this test, its cabin is more spacious and just as comfortable.
Factor in a grippy chassis, decent standard kit and rock-solid residuals, and you can see how the Audi A5 allows you to have your coupe cake and eat it.