Audi A5 Sportback vs VW Passat CC
Audi's all-new A5 Sportback claims to offer coupé style in a practical hatch package. Can it beat VW's shapely Passat CC?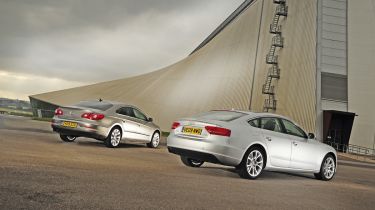 Curves are back! It's no secret that clever design can make even the most functional shape look attractive – just take the dramatic building in our picture.
The aircraft hangar at the RAF Museum Cosford in Shropshire is much more than just a metal box.
Motor makers know all about the power of good design, and have used their talents to bring about a coupé renaissance in the luxury market in recent years. The stylish Mercedes CLS and BMW X6 hark back to the days when individual coachbuilders would take an existing chassis and add their own unique bodywork. Such cars give buyers the chance to really stand out.
More affordable models are now joining this booming sector – and the latest contender is Audi's svelte A5 Sportback. It's longer, lower and wider than an A4 saloon, and has a more stretched wheelbase, plus an extra pair of doors and a hatchback tailgate. So it provides smart looks and practicality in one prestige package. The 2.0-litre petrol and diesel cars get stop-start, too, so the Sportback promises to be efficient.
But how will it fare against the first mainstream coupé-inspired model in this class: the Volkswagen Passat CC? We put 2.0-litre TDI versions of both head-to-head.
Verdict
Both contenders in this test have their strengths. The Passat CC's unique curves stand out from the crowd and it's generously equipped, well built and competitively priced. Standard adaptive dampers provide a superb ride, and executive car refinement makes it a great long-distance cruiser, while the quality cabin and generous boot add to the appeal.
In contrast, the Audi is incredibly practical with its hatchback layout, plus it's sharper to drive – although the trade-off for this is that it's not as comfortable as the Passat, due to its firmer suspension. Crucially, though, Audi's excellent Start/Stop technology delivers low emissions, so the A5 Sportback is a far cheaper car to run for company users. Private buyers are better off, too, as the stronger residuals will offset its higher purchase price. So, the Audi wins by the narrowest of margins.