Used BMW 3 Series (F30, Mk6, 2012-2018) review
The BMW 3 Series Mk6 (F30) is an impressive all-round executive saloon, thanks to its great handling, efficient engines and high-quality interior.
Verdict
The BMW 3 Series Mk6 ticked a lot of boxes as a new car, and many of those qualities also apply to it as a used buy. As well as being comfortable and fun to drive, the 3 Series Mk6 saloon is also well-equipped and offered good performance and efficiency from its myriad engine offerings. Because it was so popular when new, there are many used examples to choose from, too, although prices remain strong, especially for higher-end versions. Do also bear in mind some alternatives are better than the BMW 3 Series in areas such as practicality and refinement.
Which one should I buy?
Best used BMW 3 Series for fuel economy: 330e iPerformance SE
Best used BMW 3 Series for performance: 335d xDrive M Sport
Best used BMW 3 Series for long journeys: 320d ED Plus
The sixth-generation BMW 3 Series saloon went on sale in the UK in February 2012, and was initially available with a 320d diesel and 328i and 335i petrol engines. Over the course of the car's early life, many more options were introduced: 320i, 330d and a petrol-electric ActivHybrid model joined the range in July 2012, with 316d and 318d options following in September 2012 and a 316i going on sale in November 2012. By January 2013, a 325d model was also available to order.
In July 2015, the BMW 3 Series Mk6 was given a mid-life facelift, which refreshed the exterior styling and introduced features such as LED headlights and made BMW's iDrive infotainment system standard equipment across all models. The engine range was also revised with refreshed and replacement options, but the by-then discontinued ActivHybrid wouldn't get a successor until the 330e plug-in hybrid powertrain was introduced in February 2016.
Much like its engine range, the BMW 3 Series Mk6 was also available in an array of trim levels. These included at launch an entry-level ES trim, a mid-range SE model and slightly plusher Sport specification, along with Modern and Luxury models that boasted mildly more features as standard. In June 2012, an M Sport trim level was introduced, which endowed the 3 Series Mk6 with a mildly more aggressive bodykit and a firmer suspension setup.
As was the case with the SE and Sport specs, the M Sport trim level was available right up to the 3 Series Mk6's discontinuation in 2018. This trio of trim names would be carried over on to the seventh-generation BMW 3 Series, upon that car's UK launch in March 2019.
What are the alternatives?
The most obvious alternatives to the BMW 3 Series are the Audi A4 and Mercedes C-Class. Like the BMW, the Audi and Mercedes bring to the table premium brand appeal and a classy cabin, although they aren't as fun to drive as the 3 Series.
Plenty of additional premium alternatives are also available and aren't restricted to the German marques. If you're a keen driving enthusiast, the Alfa Romeo Giulia and Jaguar XE are worthy candidates thanks to their responsive handling setups. At the other end of the scale, the Lexus IS and Volvo S60 make strong cases if comfort and refinement are your priorities.
Partnership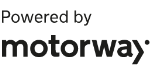 Need to sell your car?
Find your best offer from over 5,000+ dealers. It's that easy.
If you're also open to looking at similarly sized saloons from more mainstream car makers, then you may also want to consider the Ford Mondeo, Mazda 6, Skoda Octavia and Volkswagen Passat.
In addition to the saloon, the BMW 3 Series Mk6 was offered in a variety of variants. There was a 3 Series Touring estate, two-door 3 Series Coupe and 3 Series Convertible models and a slightly longer fastback-style variant called the 3 Series GT. The saloon, coupe and convertible models were also offered in high-performance M3 versions.
BMW 3 Series vs Jaguar XE vs Alfa Romeo Giulia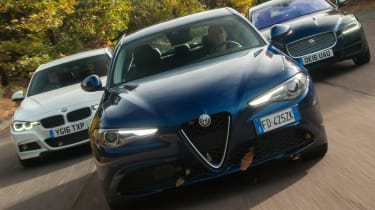 In our three-way executive car head-to-head from 2016, we pitted the BMW 3 Series against two similarly sporty rivals: the Alfa Romeo Giulia and Jaguar XE. Overall, we felt the BMW was the better to drive and was more well-rounded than the Alfa Romeo, although the 3 Series' higher CO2 emissions and limited standard kit spec contributed to it finishing runner-up to the Jaguar. Read the full test...
BMW 3 Series vs Audi A4 vs Jaguar XE
Fresh from its mid-life facelift, the BMW 3 Series went up against the Jaguar XE and the fresh-faced Audi A4 in this group test. Thanks to the car's good handling, strong performance and its spacious and well-built interior, the 3 Series finished ahead of the Audi A4, but the BMW just lost out overall to the victorious Jaguar. Read the full test...
BMW 3 Series vs Mercedes C-Class
Not long after the BMW 3 Series Mk6 went on sale in 2012, it featured in our head-to-head against the Mercedes C-Class executive saloon in 2013. It was a resounding triumph for the BMW, with the 3 Series having the edge in areas like handling, performance, refinement and practicality. Do bear in mind that generation of C-Class was towards the tail end of its life cycle, though, and was replaced by a brand-new version in 2014. Read the full test...
How much will a used BMW 3 Series Mk6 cost?
Because of its strong brand image, the BMW 3 Series Mk6 has held on to its value well, but there are still some good deals to be had. The diesels will be the ones to go for if you're a higher-mileage driver and fuel efficiency is a number one priority; all the engines are pretty efficient relative to their respective performance, and overall running costs are on par with some of the 3 Series Mk6's main rivals.
Prices
Thanks to the premium appeal of the BMW badge, the 3 Series Mk6 has held on to its value fairly well, but the fact even the youngest examples date back to 2018 means they're generally much more affordable now than they were brand new.
How much you'll pay will depend on the car's condition and mileage, and you can expect post-2015 facelifted models to have a higher asking price than pre-facelift cars. Not only will these versions be a bit younger, and in theory be in better working order, but they also come with more equipment.
You can get an overview of how much you'll need to pay for a BMW 3 Series Mk6 by checking out listings on our sister site Buyacar or value a specific model using our valuation tool.
Fuel economy and emissions
The BMW 3 Series Mk6 was available with a broad selection of petrol, diesel and plug-in hybrid engine options.
On paper, the plug-in hybrid 330e iPerformance model is the most efficient: BMW claimed this 3 Series Mk6 variant could return up to 148.7mpg and emit just 49g/km of CO2. However, in order to match that in day-to-day driving, you'll need to maximise the car's electric-only range and keep the battery charged as frequently as possible – otherwise, you'll just be driving with the petrol engine running and your fuel economy will get worse.
For regular long-distance driving, the diesels will be the most frugal options – in particular the fuel economy-optimised 320d Efficient Dynamics model, which can return up to 65.7mpg and emit 128g/km of CO2. Efficiency gets progressively worse on other diesel models, although their quoted economy figures are still pretty good: 316d and 318d versions are capable of up to 61.4mpg, the regular 320d variant can return 60.4mpg and the brawnier 330d and 335d 3 Series Mk6s can manage up to 51.4mpg and 45.6mpg respectively.
In contrast, the petrol engines as expected won't go as far on a gallon of fuel. BMW claims the 318i version of the 3 Series Mk6 can return 54.3mpg, falling to 51.4mpg on 320i car, 48.7mpg on the 330i and 41.5mpg on the range-topping 340i. On pre-facelift models, there were 316i, 328i and 335i models that were capable of up to 47.9mpg, 44.1mpg and 35.8mpg respectively.
A slightly quirky engine option that was also available only on the pre-facelift BMW 3 Series Mk6 was a petrol-electric 'ActivHybrid' setup. Unlike the plug-in 330e powertrain on the facelifted model, you couldn't recharge the 3 Series ActivHybrid using a charging point, and the electric motor was more there to boost performance than save fuel. With claimed economy of 47.9mpg, though, it is noticeably more efficient on paper than the similarly potent, purely-petrol 335i 3 Series model.
Running costs
All BMW 3 Series Mk6s have a variable servicing feature, where the car's systems monitor key components on the car and alerts the driver via dashboard icons when maintenance is needed. As a result, service intervals will vary depending on your mileage and the condition of the car when you buy it, although check-ups are typically needed every 24 months or 18,000 miles, whichever comes first.
Being an upmarket car, the BMW 3 Series Mk6 won't be the most affordable car in the world to insure, but the premiums you'll pay should be on par with its main rivals'. The 3 Series starts from insurance group 18 and tops out at insurance group 45. By comparison, an Audi A4 saloon ranges from insurance groups 19 to 44, and the Mercedes C-Class saloon is available in insurance groups 23 to 49.
What do owners think?
The BMW 3 Series is a car that's performed pretty well in the Driver Power customer satisfaction surveys. In the 2018 edition, the 3 Series Mk 6 was rated a decent 39th out of 75 cars, with owners praising the car's good handling and performance. However, the BMW brand as a whole didn't fare as well, because it was ranked a lowly 21st out of 26 car companies.
Reliability
While the BMW 3 Series Mk6 hasn't been a standard-setting performer for mechanical durability in our Driver Power surveys, it's nevertheless been a fundamentally reliable car. Since the 3 Series shared many of its engines, gearboxes, technology and other components with other BMW models, any major issues should have been rectified.
How practical is it?
The BMW 3 Series Mk6 isn't as big as many of its peers, although it's still suitably spacious if you're after a used upmarket saloon car. Safety credentials are also pretty good, and a decent amount of standard equipment was available on all models, but do bear in mind many of the 3 Series Mk6's most desirable features were reserved to higher trim levels or the options list.
Dimensions, cabin and boot space
The BMW 3 Series Mk6 was noticeably bigger than the car it replaced. At 4,624mm long, it was 100mm longer than the fifth-generation BMW Series, with some of that growth spurt due to the increase in wheelbase length (the distance between the front and rear axles) by 50mm to 2,810mm. At 1,429mm, the BMW 3 Series Mk6 was also 9mm taller.
While it was bigger than the previous version, the BMW 3 Series Mk6 was actually one of the smaller executive saloons of its type you could buy brand new. Contemporary versions of the Alfa Romeo Giulia, Audi A4, Jaguar XE and Mercedes C-Class were all longer than the BMW, albeit only by a handful of millimetres.
Because it wasn't the biggest car in this class, practicality in the BMW 3 Series Mk6 wasn't class-leading when it was new. Despite this, passenger space is on par with many of its main rivals, with just about enough head- and legroom for taller passengers to not feel too hemmed in. If you'll regularly be transporting three passengers in the rear row, do bear in mind the transmission tunnel that runs down the middle of the car does eat into cabin space a bit.
Boot space is also pretty good for an executive saloon of this size, thanks to its capacity of 480 litres. This shrinks to 370 litres on the plug-in hybrid model because of the packaging constraints of the large battery pack. Loading items into the boot isn't too tricky thanks to the wide boot lid opening and the low load lip. You can expand the boot capacity even further by folding the rear seats down, but be aware the more versatile 40:20:40 split-folding system wasn't fitted as standard to the saloon model.
Equipment and technology
The BMW 3 Series Mk6 range started off with the entry-level ES trim level, which included cloth upholstery, alloy wheels, Bluetooth, a digital radio, climate control and six airbags, with SE models adding automatic lights and wipers and rear parking sensors. The next rung up the 3 Series Mk6 ladder was the Sport spec, which came with similar equipment and a performance-oriented look over regular models thanks to more supportive front seats, a new alloy wheel design and cosmetic touches like a redesigned front grille and door sill finishes. On facelifted models, a seven-inch infotainment display was fitted as standard across the range.
Before the 3 Series Mk6 was facelifted in 2015, two additional trim levels were available, called Modern and Luxury. For the most part, these trims mainly brought to the table cosmetic changes over the SE and Sport trim levels. More notable features on Modern models included part-leather upholstery and chrome detailing on the front grille and rear bumper, whereas the Luxury trim level's highlights were full-leather seats and wood interior trim. These two trims weren't very popular when new, and were subsequently dropped once the facelifted 3 Series Mk6 was launched.
One trim level that wasn't removed from the price lists when the facelift arrived was the range-topping M Sport specification. Like the similarly named Sport model, the extra feature list wasn't that expansive (the biggest changes were leather seats and a driving mode selector tool), and most of the changes were cosmetic additions, such as a more aggressive bodykit and a sporty steering wheel. However, M Sport models did also come with a firmer suspension setup than the standard BMW 3 Series Mk6, which made the car even sharper to drive but also a bit less comfortable over rougher roads.
Safety
When the BMW 3 Series Mk6 was crash tested by Euro NCAP in 2012, the car was awarded very impressive results. As well as receiving the full five stars in its overall rating, the 3 Series Mk6 performed well across the board, with good marks for adult and child passenger protection (95% and 84% respectively), pedestrian protection (78%) and safety tech (86%).
As well as the previously mentioned six airbags, all BMW 3 Series Mk6s were fitted as standard with stability control, adaptive headlights and Isofix child seat mounting points on the two outer rear seats. Additional equipment such as adaptive cruise control, lane-departure warning and autonomous emergency braking were also available, albeit only as optional extras, so not every used BMW 3 Series Mk6 you'll find will have those features.
What's it like to drive?
Prior generations of BMW 3 Series had forged a reputation for great handling, and the Mk6 model kept that trend going, with direct steering and lots of grip. A big improvement was made over its predecessor in terms of ride comfort, too, and – bar a slight lack of oomph from the entry-level options – all of the engines offer good blends of performance and efficiency.
Engines and performance
A broad selection of engines was available on the BMW 3 Series Mk6 from new – which, once you consider the car was a strong seller, means it shouldn't be difficult to find a suitable used 3 Series with the powertrain you want.
From launch, the BMW 3 Series Mk6's petrol selection consisted of a 316i 1.6-litre four-cylinder with 136hp, a 320i 2.0-litre four-cylinder with 184hp, a 245hp 328i 2.0-litre four-cylinder and a 306hp 3.0-litre six-cylinder in the 335i. When the mid-life facelift models arrived in 2015, the 316i and 335i were replaced respectively with a 318i 136hp 1.5-litre three-cylinder and a 326hp 3.0-litre six-cylinder respectively, and the 328i was renamed the 330i.
Bar a handful of exceptions, all of the diesel models used variations of a 2.0-litre four-cylinder engine. When the 3 Series Mk6 first went on sale in 2012, there was a 116hp 316d, a 143hp 318d, a 184hp 320d, an economy-oriented 320d Efficient Dynamics option with 164hp and a 218hp 325d. The only exceptions were the 258hp 330d and 313hp 335d models, which had a 3.0-litre six-cylinder engine. As part of the mid-life facelift, the 325d was dropped and mildly higher power outputs were extracted from the 318d (150hp) and 320d (190hp) engines.
The 3 Series Mk6 was also given a petrol-electric hybrid option, with the version fitted depending on whether it was a pre- or post-facelift car. Originally, there was an ActivHybrid conventional hybrid option that used an electric motor and a 3.0-litre six-cylinder petrol engine to produce up to 306hp. This was dropped when the facelifted models went on sale in 2015, and was indirectly replaced in 2016 with a 330e plug-in hybrid with 252hp, courtesy of its electric motor and 2.0-litre four-cylinder petrol engine.
While the entry-level petrols aren't quite as refined or as punchy as their 2.0-litre and 3.0-litre petrol and diesel counterparts, all of the BMW 3 Series Mk6 models are smooth and offer good performance. If none of those engines have the amount of oomph you're after, there was a much faster M3 saloon model, which used a 3.0-litre six-cylinder petrol engine with up to 453hp in its most powerful guise.
Across the BMW 3 Series Mk6's lifecycle, it was available with two gearbox types: a six-speed manual and an eight-speed automatic. Both gearboxes suit the 3 Series well, but the smooth and quick-shifting automatic makes the car very easy to drive. Do also bear in mind that the hybrid and all-wheel drive versions of the 3 Series Mk6 were only offered with the automatic.
On the road
The BMW 3 Series has long been a car rated highly for handling, and the Mk6 version was no exception. While the Alfa Romeo Giulia and Jaguar XE are slightly more engaging down a twisty road, the 3 Series nevertheless is very fun to drive thanks to its direct steering, excellent grip and well-balanced suspension setup that prevents body lean when cornering without the usual trade-off of an overly firm ride.
On long journeys and motorway jaunts, the BMW 3 Series Mk6 is also well rounded. The suspension does a good job of isolating lumps and bumps from the cabin (although the ride isn't as smooth on cars with larger wheel sizes and the firmer suspension setup on M Sport models), and wind and road noise are nicely suppressed, too. However, if you're after the most serene and comfiest cruiser, you may be better off with a Mercedes C-Class.
Around town, the BMW 3 Series isn't taxing to drive due to its light controls and good overall visibility. However, as the 3 Series Mk6 isn't exactly the smallest car on the road, squeezing it into tighter parking spots and down narrow roads may not always be straightforward – especially if you opt for a used 3 Series Mk6 that wasn't fitted with parking sensors or a reversing camera.
Out of the box, most versions of the BMW 3 Series Mk6 were available with rear-wheel drive, with an xDrive all-wheel drive system offered as an option on 320i and 320d cars and fitted as standard to the 335d. The extra driven wheels mean the xDrive cars have better traction in slippery conditions and are a bit better suited to towing duties than their rear-wheel-drive counterparts. The trade-offs are slightly less engaging handling and worse fuel economy.
What you should look out for
The BMW 3 Series Mk6 has a respectable reliability record and has been a consistently good performer in our Driver Power customer satisfaction surveys, which bodes well for the car as an ownership prospect. However, some areas like the ones listed below are worth keeping in mind when you're looking around used examples.
Common used BMW 3 Series Mk6 problems
Bluetooth connection
A software update may be needed if you have difficulties connecting your smartphone to your car using Bluetooth. You can arrange for a software update to be carried out at an approved BMW dealer.
Front seats
Squeaks from the hinges and adjustment mechanism can develop on the front seat frames, due to corrosion.
Instruments
There's a risk the car's indicated mileage could have been tampered with. A digital diagnostic tool can be used to determine if the odometer has been manipulated.
Drive
Most BMW 3 Series models were available with rear-wheel drive, although some were fitted with all-wheel drive either as standard or as an option. If the BMW 3 Series you're looking at is described as an xDrive model, it will have all-wheel drive.
Recalls
The BMW 3 Series Mk6 has been recalled six times, with the first being issued in July 2013 to rectify potential clutch failure risks on manual models. In 2015, recalls were issued in January and June for faulty seatbelts and a risk of the engine stalling due to fuel starvation, and a recall was actioned in October 2016 in response to electrical glitches that could affect the electric power steering on certain BMW 3 Series models.
The two most recent recalls were from June 2018 and October 2019. Both recalls only affected diesel models, and involved a fix for a faulty exhaust gas recirculation cooler that could result in a fire risk due to burning soot deposits.