Land Rover's electric future previewed by trio of concept cars
Evoque and Range Rover Sport-based concept cars preview low emission future for established SUV maker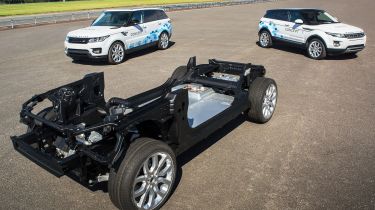 Jaguar Land Rover has revealed three low emission concept cars at the CENEX Low Carbon Vehicle Event at Millbrook. Based on a variety of Range Rovers, the trio of cars form part of the brand's long term hybrid and battery-electric powertrain technology research, which kicked off in 2013 at a cost of £16.3m. 
The electric drive module (eDM) has been developed in-house and is said to be capable of producing 'twice the power and torque of any electric-motor generator in production today'. Cleverly, the module can be inserted between any existing or future engine and transmission setup to create a hybrid, plug-in hybrid or full electric vehicle.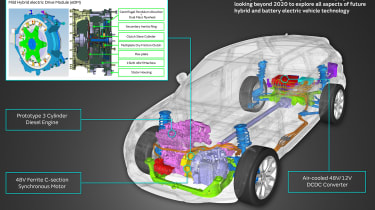 The first concept is a conventional hybrid featuring an 89bhp diesel engine with a 15kW integrated motor mated to the super-frugal nine-speed automatic gearbox. It's based on the pre-facelift Range Rover Evoque and is codenamed Concept_e MHEV (above). 
Dr Wolfgang Epple, Director of Research and Technology, said: "This is a long-term Jaguar Land Rover research project exploring all aspects of future hybrid and battery electric vehicle technology. The three Concept_e vehicles will allow us to test and develop exciting new potential technologies that could form part of our low and zero emissions vision beyond 2020."
Concept_e PHEV (below) is a plug-in version that employs a similar architecture, but with a 296bhp petrol engine matched to a 150kW motor. It gets an eight-speed transmission and is fitted within the body of a Range Rover Sport.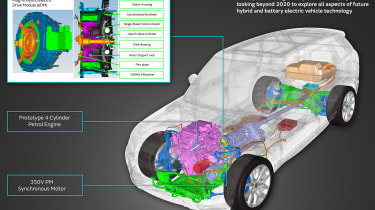 The final concept is an all-electric off-roader with a 70kWh lithium ion battery and electric axle drive units. The Concept_e BEV gets two electric motors – one for each axle – but as yet hasn't been assigned to a particular Land Rover model. As a result, this could hint at the all-new, pure-electric SUV for launch in the next five to 10 years. 
Dr Epple insists environmental innovation is at the heart of JLR's business. "Technologies like these have already helped us reduce our fleet CO2 average by 25 per cent in recent years.
"Our future vision is to continue to reduce emissions and improve fuel efficiency while still delivering the luxury, performance, refinement and comfort our customers expect", he said.
Should Land Rover build an all-electric SUV? Let us know what you think in the comments...