New Land Rover Discovery Sport PHEV and Range Rover Evoque PHEV join range
Plug-in hybrid powertrains are now available in the Land Rover Discovery Sport and Range Rover Evoque and both are now on sale
Land Rover has been accused of being behind the curve on electrification, but it's about to take a big step towards addressing that issue with the arrival of plug-in hybrid versions of two of its most popular models, the Discovery Sport and Range Rover Evoque.
Officially announced this week, the two new models mark a significant development in Land Rover's model range. They also represent a sizeable investment in the company's Premium Transverse Architecture (PTA), the platform that underpins its smaller vehicles.
Designed from the outset to accommodate electrified powertrains, PTA means that Land Rover is able to claim a strong pure-electric range for both of its two new arrivals, as well as promising that they will be at least as good as their conventionally powered stablemates off road – and perhaps even slightly more capable.
The two cars will be badged P300e, and they share key components. Under the bonnet is a new member of the Ingenium engine family – a 1.5-litre three-cylinder unit producing 197bhp and weighing 37kg less than the four-cylinder 2.0 that we're familiar with. This unit drives the front wheels, and at the rear axle there's a synchronous permanent magnet motor with an output of 107bhp. The battery, sited below the second row of seats, is a healthy size for a PHEV, at 15kWh.
As a result, the Evoque and Discovery Sport have 304bhp, and there's 540Nm of torque on offer. The gearbox is a new eight-speed auto that is slightly smaller in size to allow for better packaging, and features some components that help to integrate the plug-in system.
Land Rover claims that the Evoque P300e is capable of 0-60mph in 6.1 seconds and can travel up to 41 miles on electric power alone. Official WLTP fuel economy is 201.8mpg (depending on spec and wheel size) and CO2 emissions dip as low as 32g/km.
The slightly larger Discovery Sport P300e manages 0-60mph in 6.2 seconds, a pure-electric range of 38 miles, official economy of up to 175.5mpg and emissions of 36g/km. Both cars are capable of reaching 84mph on electric power alone.
The Evoque's figures mean that it can qualify for six per cent Benefit-in-Kind company car tax rate in 2020/21, rising to eight per cent in 2022/23. The Discovery Sport sits two per cent higher in both periods.
In most instances the Evoque and Discovery Sport will be driven by the rear wheels only. Chris Carey, Vehicle Engineer for Evoque and Discovery Sport, told us, "We've worked extremely hard to identify what are called 'run requests' to and from the engine, and eradicate them as effectively as possible. You can drive a considerable proportion of the time in EV mode."
That setting is one of three offered by the system. The other two are Hybrid, where the car uses a mixture of driving style and GPS data to manage EV and combined power in the most efficient fashion, and Save, where the combustion engine becomes the main power source and the level of battery charge is maintained.
There's no option to use the engine to fully recharge the battery on the move, incidentally – "It's a desperately inefficient way of doing that," Carey said – but the PHEV tech will ensure that electric power is available for the back axle, even when the charge level is at zero per cent. "It has to do that, because it needs to have the capacity to be four-wheel drive at any time," Carey explained.
The platform integration of the electrified powertrain has allowed the engineers at Land Rover to deliver two further key aspects: no reduction in luggage or cabin space, and a 57-litre fuel tank, which is relatively large for a plug-in hybrid.
"We wanted to totally eradicate any range anxiety," Carey said. "The lack of a propshaft allows us to fit this size of tank, so while the EV-only range is strong, owners will know they can have huge reserves for a long journey in the hybrid mode."
Using the charging point, which is at the rear, on the opposite side to the fuel filler, the two models take just under seven hours to recharge using a three-pin socket. A faster domestic wallbox will achieve the same feat in less than 90 minutes, while DC fast-charging on the public network will take the battery from zero to 80 per cent in 30 minutes.
Relatively few Evoques and Discovery Sports get used off road, but engineers are keen to point out that the adjustability of the electric motor's torque at the rear axle means that the plug-in versions of the cars are as accomplished off road as any of their conventionally powered siblings.
"The amount of torque from the electric motor on the rear axle is a huge help," Carey told us. "It's almost overkill, really, but it gives you huge performance in rear-wheel-drive mode, and then if you do take the car off road, the adjustability of the torque delivery is a real advantage.
"We've also worked hard to deliver a flat floor underneath to help have the same ground clearance, approach and departure angles as the regular cars. Combined with the electric back axle, this means the PHEVs are maybe even more capable."
Both of the new PHEVs are available to order now, although Land Rover sources say that amid the current coronavirus crisis, first deliveries won't be until the autumn at the earliest. The new models slot into the existing line-ups much as any other powertrain, with a choice of trim levels to be made. The Evoque P300e will be available in S, SE and HSE specs, with prices starting from £43,850. The Discovery Sport P300e is offered in R-Dynamic, S, SE and HSE versions, and costs from £45,370.
| | | |
| --- | --- | --- |
| Model: | Range Rover Evoque P300e | Land Rover Discovery Sport P300e |
| Price: | From £43,850 | From £45,370 |
| Battery size: | 15kWh | 15kWh |
| Total power/torque: | 304bhp/540Nm | 304bhp/540Nm |
| Economy (WLTP): | 201.8mpg | 143.3-175.5mpg |
| CO2 emissions (WLTP): | 32-38g/km | 36-44g/km |
| Pure EV range (WLTP): | 37-41 miles | 34-38 miles |
| 0-60mph: | 6.1 second | 6.2 seconds |
Rivals: what they need to beat
Volvo XC40 Recharge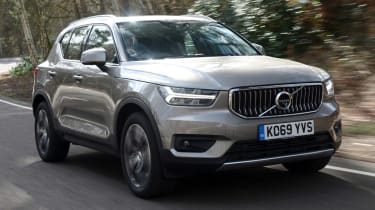 Price from: £40,905
EV range: 28 miles
Volvo has made plenty of headlines with its electrification push, and the recently launched XC40 Recharge T5 is at the sharp end of delivering on the firm's promises. The baby SUV has a 1.5-litre three-cylinder petrol motor, a single electric motor and a 10.7kWh battery – some way off the capacity of the new Land Rovers.
Total system power is rated at 258bhp and 425Nm, but the car is front-wheel drive only. It can still crack 0-62mph in 7.3 seconds, but the pure-electric range is a modest 28 miles. Boot space is unaffected by the powertrain, so it has a useful 460-litre capacity.
Toyota RAV4 PHEV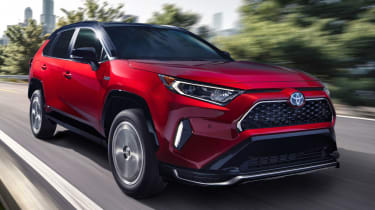 Price from: £35,000 (est)
EV range: 38 miles
Hybrid power has long been at the heart of Toyota's range, but the firm is only now getting serious about plug-in electrification. Its RAV4 Plug-in Hybrid will go on sale in the second half of this year.
The RAV4 mixes elements from Toyota's hybrids with fresh tech, so there's a 2.5-litre four-cylinder petrol engine and two electric motors to deliver four-wheel drive. A total output of 302bhp means the RAV4 is one of the most potent cars in Toyota's line-up, and it can manage 0-62mph in 6.2 seconds, as well as an electric range of 38 miles. Boot space takes a minor hit, but is still generous, at 520 litres.
BMW X1 xDrive25e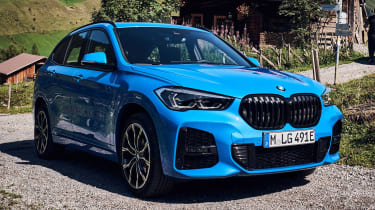 Price from: £38,200
EV range: 35 miles
BMW's baby SUV gets hybrid power at roughly the same time as the Land Rovers. A rival for the Disco Sport, the X1 xDrive25e has a 1.5-litre three-cylinder petrol engine and an electric motor on the back axle. Total system output is 217bhp and 385Nm of torque, enough for a 0-62mph time of 6.9 seconds.
The battery is a 10kWh lithium-ion set-up, so there's an electric-only range of up to 35 miles, and an EV top speed of 84mph. Boot space takes a hit, though, with the 450-litre capacity down 55 litres on the standard X1. A similarly powered version of the X2 is due later.
What do you think of the new Range Rover Evoque and Land Rover Discovery Sport PHEV models? Let us know in the comments section below…