'The star of the show is the car and the people who make it'
Glitzy launch events of new cars are fine, but the car itself and the passion behind it should be what we focus on, says Steve Fowler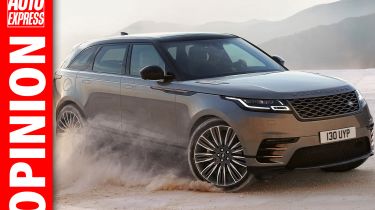 In the past week I've been to two hugely important events for JLR, but one has left a far deeper impression on me than the other.
The new Range Rover Velar was launched with typical glitz at the Design Museum in London – an in-depth briefing, followed by a lavish reveal that seemed to focus more on the mystifying range of self-promoting celebrities that could be persuaded (paid?) to attend than the real star of the show, the car. If there's one recent model that should be allowed to speak for itself, it's the Velar.
However, rather more insightful, important and low-key was another event I attended with JLR CEO Dr Ralf Speth – the Innovista Awards. This is a Tata Group-wide competition that promotes and celebrates innovation and was open to every one of JLR's 45,000 UK employees.
• "Britain is unproductive? I don't believe that for a second"
Throughout the day, various teams from areas of the company I had no idea existed passionately presented incredible ideas – in front of each other to promote even greater learning and idea generation.
The fact that the boss was there for the evening Awards presentation gave them an added lift. And his own excitement at seeing what his colleagues had come up with shows the passion that runs through this company from top to bottom.
• 'Buyers have demanded more 'Made in Britain' labels'
Also in attendance was Dr Gopichand Katragadda, group chief technology officer at Tata Sons, who revealed the Tata Group had 2,000 new patents every year, with significant numbers from JLR. He left them with one thought: "Innovation isn't a spectator sport."
This small window that I was allowed to peer through to see the inner workings of JLR was hugely insightful. The multi-national talent this company has in the UK is responsible for cars like the Velar. And they all deserve the applause the car got at its launch.
What do you think of the new Range Rover Velar? Leave us a comment below...