Range Rover: Old vs new
We bring together four generations of Range Rover to see how the SUV legend has evolved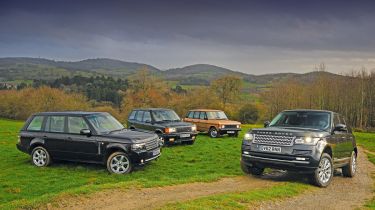 Motoring legends don't come much bigger than the Range Rover. Before the revolutionary Brit burst on to the scene back in 1970, there was no such thing as a luxury SUV. Off-roaders were rugged and rough workhorses that offered little in the way of creature comforts.
Yet with its effortless performance, executive car comfort, smart styling and go-anywhere off-road ability, the Range Rover was as much at home outside London's upmarket Fortnum and Mason store as it was splashing through a muddy farmyard.
Over the course of 42 years, the model's technology, comfort and price have evolved beyond recognition, yet it has always stayed close to the "most versatile car in the world" sales pitch found in the original brochure.
Through the turbulent industrial troubles of the seventies, the brash, money-minded eighties and the environmental backlash of the nineties, the Range Rover has survived to become one of the best-loved luxury cars in the world. And now there's an all-new model that sets even higher standards. Bigger, faster, cleaner, more luxurious and better to drive than ever, the latest Range Rover is still breaking new ground.
To celebrate, we look back at the car's illustrious history, from the game-changing original through to the limousine-rivalling current machine. So sit back and relax as we take a ride in the best 4x4s by far.
Verdict
The Range Rover has survived numerous changes of company ownership, turbulent economic times and countless technical challenges. In the early days, customers endured poor reliability and questionable quality, yet the appeal of this classy car shone through.
Today's technology-packed and opulent Rangie is a world away from the utilitarian design of the early Classic, but the model's unmistakable style and go-anywhere ability remain undiluted. Proudly British, yet loved across the globe, the Range Rover ranks alongside legends such as the Volkswagen Beetle, Porsche 911 and Mini as an instantly recognisable motoring icon – one that continues to evolve, improve and adapt to a changing automotive world.