Lexus small SUV at Geneva
Lexus will reveal production version of Evoque-rivalling LF-NX concept at Geneva show in March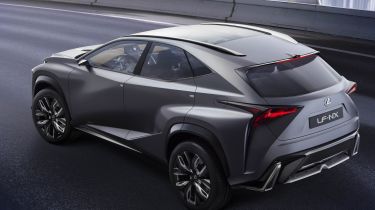 Lexus will reveal its new Range Rover Evoque rival at the Geneva Motor Show next March, Auto Express has learned. And you'll be able to buy one by next summer.
Previewed by the striking LF-NX concept, first shown at the Frankfurt show in September, the compact SUV will retain the concept's stand-out styling, according to Lexus' European director Paul Van der Burgh. "What we're finding is that these days customers want to be more expressive, so a lot of the concept's inherent design will come out in the finished car.
"We've seen the finished design, we know what it will look like and it will definitely stand apart. Why would you want something that looked like everything else in the segment? Our customers have always wanted a combination of design and technology, but design has definitely become more important," Van der Burgh said.
Although the original LF-NX concept was shown with the same hybrid powertrain as the IS300h and GS300h (combining a 2.5-litre, four-cylinder engine with an electric motor for a total of 220bhp), an updated version fitted with a brand-new 2.0-litre turbocharged petrol engine was shown at the Tokyo show last month. That unit will replace the ageing 2.5-litre V6 in future Toyota and Lexus models, and expect both hybrid and 2.0-litre turbo options to be offered in the new compact SUV.
Richard Balshaw, director of Lexus UK, confirmed the comany has "mid-term ambitions" of selling around 15,000 to 16,000 cars a year in the UK. However, Van der Burgh wouldn't be drawn on global sales targets.
"Globally our aim is sustained growth. We want to enter new market and we're already planning for 2020 and 2025. We don't want to copy BMW and we are certainly not chasing BMW and Mercedes volumes. Our focus is to keep the brand very individual."