Lexus' cardboard car: full-scale origami IS saloon revealed
Made from 1,700 pieces of cardboard, the origami Lexus IS is powered by an electric motor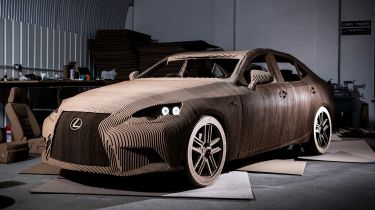 Not satisfied with building hoverboards, Lexus has now turned its attention to origami cars. Modelled on the Lexus IS, the full scale model has been made entirely of precision-cut cardboard; although the car is mounted onto a steel and aluminium frame for support. The origami IS is powered by an electric motor which means it can be driven and if safety is a concern fear not, it we imagine it must have very large crumple zones.
The model has a fully fitted interior, functioning doors, real headlights and rolling wheels. The entire creation was hand-crafted from precision-cut cardboard and took three months to build. Lexus partnered with LaserCut Works and London-based specialists Scales and Models for the project.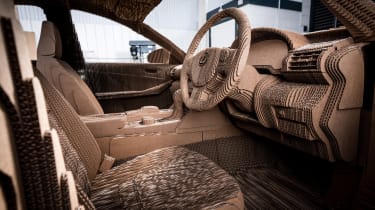 Using a digital 3D model of the IS as a starting point, the cardboard car was divided into a series of main parts which were then digitally rendered in 10mm "slices," these profiles then aided the cutting of the 1,700 sheets of 10mm-thick cardboard.
"This was a very demanding job, with five people involved in the digital design, modelling, laser cutting and assembly. Just like Lexus, we were committed to producing the best possible quality." explained Ruben Marcos, the Scales and Models Company founder and director.
The origami Lexus IS will be unveiled to the public from 8 October at the Grand Designs Live show which will be held at the NEC, Birmingham. 
Tell us what you think of Lexus' cardboard car in the comments section below...