Lexus announces new RC 200t coupe with 241bhp turbo power
Lexus adds 2.0-litre turbo petrol engine to RC coupe range, with deliveries expected at the end of 2015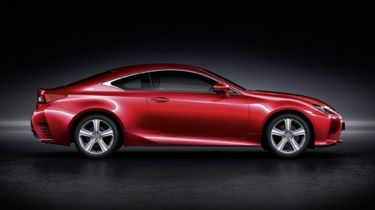 Lexus is finally extending its RC coupe range further than the scorching V8-powered RC F. The BMW 4 Series rival will soon be available with a 241bhp 2.0-litre turbo petrol engine mated to an eight-speed automatic gearbox. The RC 200t will hit showrooms at the end of 2015 after a likely Frankfurt Motor Show debut. 
Its engine already sees service in the Lexus NX 200t crossover, although it delivers 6bhp more power and 30Nm more torque in the coupe. The RC ditches the torque-converter six-speed auto in the NX for a slicker eight-speed unit. The RC 200t is capable of 0-62mph in 7.5 seconds, and goes on to a top speed of 143mph. Those numbers are broadly comparable to those of a BMW 420i.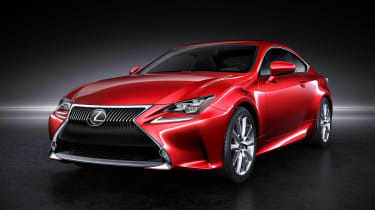 UK-specific prices and fuel economy figures are yet to be announced, but Lexus claims CO2 emissions of 166g/km. Like other models in the Japanese firm's range, the RC 200t can run on both performance-biased 'Otto' and fuel efficient 'Atkinson' fuel cycles.
Although Lexus has only released a side view image of the car, it's clear that the dramatic styling of the RC F has been toned down a bit for the standard RC. Smaller alloys and the removal of the muscular bodykit mark it out as the more mundane model, and we can expect similar overall styling inside to the 2014 Geneva concept pictured above.
We'll have more UK relevant details on the RC 200t in September, when we expect to see the wraps come off it at Frankfurt.
How do you think the Lexus RC 200t will do against the BMW 4 Series, Audi A5 and forthcoming Mercedes C-Class Coupe? Tell us in the comments below...