Mazda 6 Estate vs VW Passat
Mazda's new 6 estate promises the space and style to make carrying a family easy and fun. But is it the best in class? We put it head-to-head with the VW Passat to find out...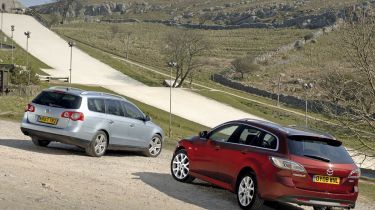 Sharply styled, generously equipped and better to drive than ever, the new 6 is the finest example yet of Mazda's continuing move upmarket.
We've already been impressed by the hatchback version, so how does the Estate measure up? On paper, it looks good. For starters, even though it's bigger than its predecessor, it's lighter, cleaner and more frugal. Boot volume and load length have increased, while the hatch's good looks are carried over, too. But if the 6 is to capture customers in this market, it's going to have to take on the Volkswagen Passat. With its first-class reputation for quality and enviable brand image, the VW is a formidable contender.
The Mazda is available in S, TS, TS2, Sport and SL trims, and we test the 2.0-litre diesel Sport model. Eagle-eyed readers will notice the Passat in our pictures is an SE, but the model we've tried is the 2.0-litre 140 Sport.
So, can the new Mazda come out on top in load-lugging guise? We hit the road in both cars, tape measure in hand, to find out.
Verdict
We're big fans of the Mazda 6, as it looks great, has sharp handling and represents superb value. And the Estate is an excellent addition to the range. We think the rear end styling blends well with the sporty nose, and above all, it costs only £700 more than the hatchback.
The load-lugging 6 is also cheaper than the Passat Estate, and has an advantage in terms of driver involvement and standard equipment, too. While the VW is more refined and the interior has an upmarket ambience, in an estate car test it's the luggage area that makes the difference.
And here the Mazda really scores – not only is its boot bigger, the clever mechanism lets you fold the rear seats flat in one action. Both cars can carry large amounts of luggage, but the Mazda's boot is simply better thought out.
The Passat's TDI diesel is the smoother engine, yet it offers comparable performance. And crucially in this class, the 6 has lower emissions – so it's not only a cheaper company car, but also benefits from lower road tax. Add its strong residual values, and the stylish, fun and well conceived Mazda is a clear winner here.