Four-seat McLaren supercar possible but it won't have four doors
McLaren boss hints a 2+2 GT would be considered, but a four-door McLaren is out of the question.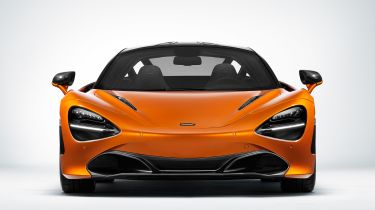 McLaren's model range could grow to include a four-seater, according to CEO Mike Flewitt. Speaking exclusively to Auto Express at the Shanghai Motor Show, Flewitt admitted that a four-seat McLaren is something his company continues to look at, but ruled out a four-door model: "I can see four seats, but not four doors," he told us.
"It could be either Sports Series or Ultimate Series and I could see the GT further enhance its usability and further move in that direction if that vehicle could have at least a 2+2 configuration"
"We'd look at it, see if it's what the market wants and see if it would still have the driving attributes that you'd want from our cars – you would have to use a slightly longer wheelbase so you would lose a little of the agility that's there. But if what you got back was more attractive than what else is in that segment then maybe, yes."
Flewitt also explained the process that McLaren would go through before signing off a 2+2 model. "When we do our product planning there are three things I always measure: the business case, the brand – it'll clearly need to be a McLaren fitting with the brand we're building, and the third is around the technology – it'll need to be best in class and lead the market," he said.
"If we were to do a GT as a 2+2, would that enhance the business case? Would it fit with the brand? Probably if done the right way."
"It's something we would continue to look at and as much as you'd get me to stand on stage and swear we'd never build an SUV, I wouldn't take that position on a 2+2."
McLaren's recently launched 570GT is already taking about a third of sports series sales right now, but Flewitt admitted that he expected more – up to 50%. "I thought it would be half, but what we misjudged is not so much the car, but the time it takes for the market to realise what GT is," he told us. "I haven't had anyone who's bought one say 'why the hell are you doing this?'."
Meanwhile the new 720S, launched just weeks ago in Geneva and unveiled for the first time in China at the Shanghai show, is drawing record numbers of sales. Flewitt revealed to us that in the six weeks since the car's unveiling, 1,400 orders had been received meaning the car is already sold out for 2017. With Chinese order books just opening and once the car is in showrooms, Flewitt expects that number to grow even faster.
Is a 2+2 McLaren a good idea? Have your say in the comments...