Six ways F1 is really helping design your next car
Mercedes has revealed full details the cutting edge technology that will be lifted directly from F1 and used in your next road car.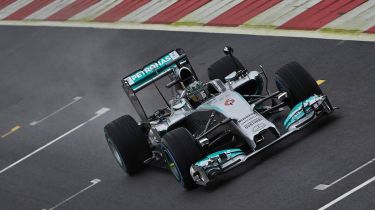 'Formula One breeds the cars of tomorrow' is up there with football's obsession with 'goals changing games' as one of sport's most tiresome clichés. But Mercedes says that thanks to stringent new efficiency and cost regulations, that's no longer the case. Here's how the new rules have at last moved race-to-road car tech on a collision course, according to 2014's champions-elect.
Stronger and lighter materials
'Road cars are about 20 years behind F1 in terms of construction', says Jan Kruger - Advanced Engineering BIW, Daimler AG. 'The aluminium era in F1 ended when carbonfibre became commonplace, but only now is aluminium becoming common in road cars. But we're investing in greater use of composites: the SL has a carbon-reinforced bootlid and the S63 AMG has a carbon spare wheel well'. Mercedes says a cocktail of heat-treated high-strength metals and carbon-reinforced plastic will soon be the accepted norm in everyday cars.
Better oils, improving stop-start systems
'The old F1 V8 lost 18 per cent of its energy output to friction', Dr Paul Crofts, Head of Materials Engineering at Mercedes AMG High Performance Powertrains explains. 'With the V6, we have this down to 15 per cent. Since 2010, Mercedes has developed 50 new high-performance oils'. Lessons from these lubricants can improve the performance of stop-start systems rebooting cold engines, according to experts.
• London Grand Prix could become a reality
Lower engine friction for smoother running
Lewis and Nico's F1 V6s are treated to the same 'nanoslide' technology as Mercedes road car engines, on the very same production line. The technology coats the cylinder liners with a microscopic layer of molten iron-carbon droplets, smoothing the aluminium bores and negating the need for a heavy iron cylinder liner. Both road and racecars enjoy 50 per cent smoother running as a result.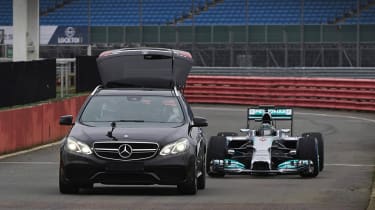 Better batteries for electric cars
Electric cars won't attract big sales until they all boast several hundred miles of range. Mercedes F1 director Paddy Lowe says Mercedes proved racing brings that day closer. 'When we developed KERS we consulted a lithium-ion battery manufacturer. They said a battery that size and weight couldn't be packaged in an F1 car. By pushing them they developed a cell with better power density than even they thought possible. They beat their internal targets by 10 times. Our 2014 hybrid boost system is 80% lighter and 12 times as powerful as it was in 2007.'
Recapturing lost engergy for better efficiency
Regenerative braking – as on the 2014 WO5 Hybrid racecar's rear axle – is commonplace in road cars. Mercedes says the next step is heat harvesting: using expelled temperature from turbochargers and exhausts to power a generator used for extra power boosts. As of 2015, every Mercedes road car engine will be turbocharged, opening the door for a similar heat-capture system to infiltrate road cars, according to Hybrid Manager Dr. Uwe Keller.
Improved aerodynamics for road cars
To minimise the penalty of 25 per cent less downforce as of 2014, a lack of drag is very much in fashion in current F1 design. Mercedes says its experience with efficient wind tunnel testing – only 60 hours per week are now allowed – makes its road car aero programme a slicker operation. It looks to be paying off: the CLA is the world's slipperiest production car.