Mercedes B-Class EV to cost £1,500 more than BMW i3
Mercedes expects the £27k B-Class Electric Drive to sell in small numbers when it arrives in 2015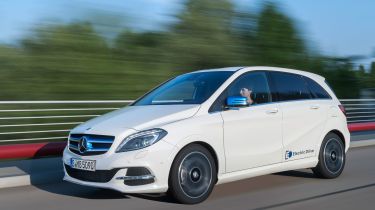 Mercedes-Benz will charge £27,000 for its B-Class Electric Drive the company has revealed – £1,500 more than BMW's quirky-looking i3.
Due to be launched in the UK next year, the 100 per cent electric premium MPV will be the first car to use the company's new technology. The newcomer will cost £27,000 after the £5,000 Government grant and Mercedes will not offer a battery leasing programme.
• Best electric cars to buy now
However, the B-Class Electric Car uses a platform that is adapted from the petrol and diesel powered B-Class models. It'll cost roughly £1,500 more than the BMW i3 – a car that was designed from the outset to be an electric car and is made from advanced materials such as carbon fibre and aluminum.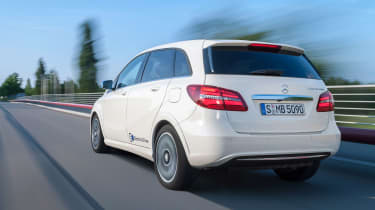 But, with the electric vehicle market being uncharted territory for the German giant, the company doesn't have high expectations of the car selling strongly in the UK. A spokesperson said that Mercedes is reserving putting an estimate on predicted sales, but when pushed said "more than 100 but less than 500 units" was the rough forecast.
It's a similar story in mainland Europe as well, with Mercedes being cautious about sales due to the volatility of the EV market. Dealers will be able to sell as many as they can but, like most other cars in the Mercedes-Benz range, the B-Class Electric Drive will be order-only and come with an eight-year maintenance programme. This would support the unknown sales expectations.
With this being the first time Mercedes has launched a mainstream fully-electric car, it would be natural to presume the debut car would be the fashionable A-Class which shares the same platform as the B-Class.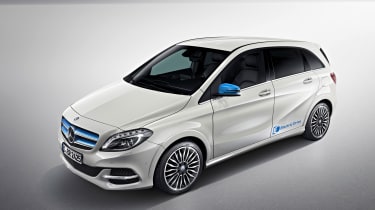 However, due to clever packaging, the MPV can carry the battery technology without it impinging too much on interior space. The batteries sit under the rear seats meaning rear passengers sit slightly higher than they would in other non-electric B-Class models.
Co-developed with Tesla, the B-Class's powertrain is a development of the same system that powered the Smart ForTwo Electric Drive. In the B-Class, the electric motor delivers 178bhp and 340Nm of torque. It means the B-Class can get from zero to 62mph in a speedy 7.9 seconds while total driving range is around 124 miles.
Find out about the most economical petrol and diesel cars currently on sale.