Mercedes EQC - Best electric cars
The Mercedes EQC doesn't have the premium electric SUV segment to itself, but it's a worthy contender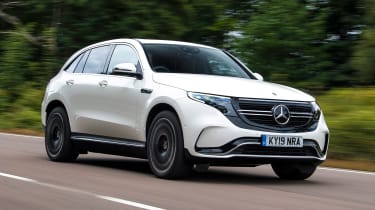 For a car company the size of Mercedes, it's taken a surprisingly long time for them to get going on the electric car front. The German giant has been making hybrids for years, but the EQC is its first foray into the fully-electric car sector. 
The EQC may be Mercedes' first fully-fledged EV, but it shares a number of components with existing models. The interior is a familiar design with the vents, copper accents and the sweeping wraparound dash the only noticeable differences. The MBUX infotainment system is responsive, but it's easier to navigate using the 'Hey Mercedes' voice control. 
The chassis is developed from the current GLC SUV and it's been highly modified to incorporate the 80kWh battery, while one electric motor drives the front axle and another drives the rear. Instantaneous torque has become synonymous with EVs and the EQC is no different with an impressive 403bhp and 760Nm on tap. 
The weight and size of the EQC means you won't be attacking corners, but the steering is direct so at least it's reassuring to place on the road. The ride quality is excellent and if you've just stepped out of an ICE car, the quietness is almost eerie.
Best electric cars to buy 2019