Best Luxury Car: Mercedes S-Class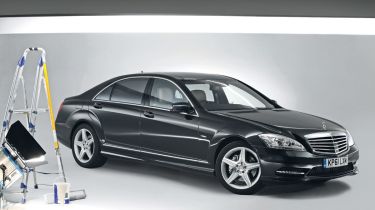 Why it won...
Luxury saloons are what Mercedes does best and the S-Class proves it. The model has been in the spotlight for nearly seven years, but still reigns supreme as the ultimate prestige express.
The Jaguar XJ looks more distinctive, the BMW 7 Series is sharper to drive and the Audi A8 has a better-quality cabin. Yet none of these cars can match the peerless comfort, refinement and all-round appeal of the best Mercedes in the business – which is why it has now won this award seven times.
Whether you're reclining in comfort in the back or sitting behind the wheel, the S-Class is a technological tour de force that oozes class and desirability. It commands the luxury car landscape on account of its serene comfort. The combination of its wonderfully cushioned seats and supple suspension takes the sting out of all but the most rutted roads, giving the S-Class the kind of cosseting isolation rivals simply can't match.
The S350 BlueTEC is the best bet. Its 254bhp diesel engine powers the car from 0-62mph in 7.1 seconds, while efficiency- boosting measures such as stop-start reduce CO2 emissions to 164g/km. Petrol models – including the muscular AMG version – provide more pace, but all examples drive with surprising agility for such a big and luxurious car.
The S-Class is a standard bearer for the entire Mercedes line-up and the ultimate expression of the company's values. It isn't the cheapest, fastest or most efficient luxury saloon in the corporate car park but it is, without argument, the best.
Our choice: S350 BlueTEC
Diesel power is the only sensible option at this end of the market, and that leaves you with one option: the S350 BlueTEC. It's the only diesel in the S-Class range, and is a fine performer, providing a blend of relaxed pace and strong refinement.
Commended
Bentley Mulsanne
If you must have the ultimate luxury saloon, the Mulsanne is hard to beat. Bentley's flagship models are always the stuff of legend, and the current range-topper doesn't disappoint. With its grace, power and comfort, the British car is a true modern-day motoring icon.
Range Rover
Want pillow-soft seats, crushing long-distance cruising ability and the kind of floaty ride comfort that sets the best luxury saloons apart? Then you can't ignore the Range Rover. Strictly speaking it's a 4x4, but if you ask any of our judges to name the cars in their dream garage, we guarantee they'll all find a space for one of these.