Mercedes SL63 AMG vs rivals
We test the Mercedes SL63 AMG against its rivals from BMW and Jaguar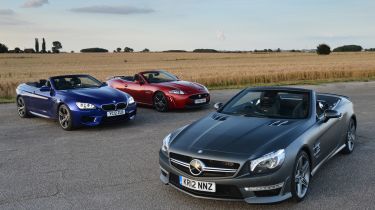 In 1952, a pair of Mercedes 300SL coupes scored a 1-2 finish at the legendary Le Mans 24 Hours. They were the first chapter in the story of one of the world's most famous roadsters.
The 300SL evolved into the legendary 1954 gullwing SL, which in turn led to the first SL roadster in 1957, starting a proud lineage that continues today with the latest, sixth-generation SL.
The standard version of the car is famed for style, image and comfort. It's only the hot AMG versions that stay close to the performance ethos of the racers that first wore the SL (Sport Light) badge. With its 556bhp twin-turbo 5.5-litre V8, the latest SL63 promises a tantalising blend of horsepower and class.
But the new BMW M6 is also powered by a twin-turbo V8 engine and should be every bit as fast and dramatic. A four-seat cabin gives it extra practicality, and just like the Mercedes, it's a technical tour de force. But if it's a classy roadster with some serious punch you're after, it's hard to ignore the Jaguar XKR-S.
So, 60 years after its first major success on the race track, is Mercedes' legendary SL about to score another victory?
Verdict
There's no shortage of performance in this test. Each of these cars has a great V8 exhaust note, a serious price tag and power to spare. They look the part, too, so picking a winner comes down to which feels the most special behind the wheel.
Surprisingly, that isn't the BMW M6. It's packed with clever technology, has a fantastic engine and gearbox, but it's too heavy and lacks the agility of its significantly lighter rivals.
On the other hand, the Jaguar offers a simple combination of entertaining handling and massive performance, but the cabin is dated and it's hard to justify the hefty price increase over the already impressive standard XKR.
So the SL63 is the clear winner. It proves once again that AMG now makes cars with agile handling to match their famed engines. This is a mighty performance car that retains the sense of class you'd expect from an SL.