Mercedes SLK 250 CDI vs Audi TT
Can the entry-level diesel Mercedes SLK beat the Audi TT Roadster?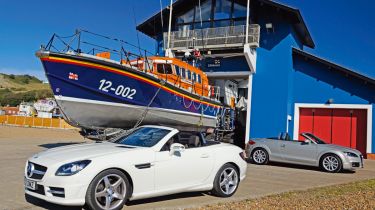 Diesel engines power everything from limousines to lifeboats these days. But until 2010, when Audi launched its turbodiesel TT soft-top, two-seater roadsters had remained one of the last bastions for fans of petrol power. Now, another desirable drop-top with a less-than-glamorous engine has joined it: the Mercedes SLK 250 CDI.
This car's diesel engine is still an unusual choice, but with 500Nm it ensures the new entry-level SLK can outrun some of its petrol cousins. Plus, the promise of well over 50mpg is likely to be enough to tempt anyone sick of the burden of a thirsty petrol engine's steep fuel bills.
Standing in the SLK's way is the TT – one of the most complete roadsters on sale. Although it's starting to show its age, the Audi is still stylish, affordable and great to drive. So, can it stop the diesel SLK from going straight to the top of this fledgling market?
Verdict
Mercedes has a proud history of building drop-tops, and that pedigree really shone through in this test. The third-generation SLK has struggled to make an impact in our previous shoot-outs, but this diesel version is the pick of the range. It's incredibly efficient and yet its engine packs a serious punch.
The folding metal roof, meanwhile, is beautifully engineered and provides all-weather protection and refinement that the Audi struggles to compete with.
So in the end this is quite a comfortable victory for the Mercedes. There's no escaping the big gap in price between these two cars and, on paper, the Mercedes looks expensive. But the version we tested comes very well equipped, and opting for the S tronic auto and S line trim in the Audi adds £3,740 to the price.
The classy and thoroughly modern interior of the SLK helps justify the steep price tag, while the TT's cabin feels a bit dated, despite its undeniable quality.
Yes, the Audi feels sharper to drive, thanks to its quattro four-wheel drive, but it's let down by its overly firm ride and noisy engine – while the classic yet undramatic styling has lost its edge.
Some buyers will still need convincing that diesel engines work in roadsters, but on the evidence of this latest SLK they should be able to take the plunge with confidence.