Mercedes SLR Coupe review (2003-2010)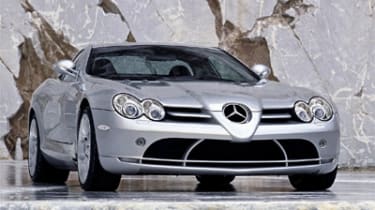 Links between manufacturers and their motorsport partners are no new thing, but Mercedes and McLaren have taken it from the more traditional mild tweaking and sticker pack and instead build one of the worlds fastest cars - the SLR. You might ask why Mercedes needs such a car with so many hyper-Mercs already available, but it seems that customers want it, with some wealthy buyers putting owning several SLRs - one for each of their houses. Unlike rivals like the Ferrari Enzo and Porsche Carrera GT the SLR isn't a raw road racer, it's an ultra fast GT, that will cruise at over 200mph should Germany be on your route. Built by McLaren the attention to detail is astounding, and while taller drivers might find the cabin a touch claustrophobic, otherwise comfort is superb. Safety is high too, the SLR having all the electrical safety nets you'd expect on such a high power Mercedes, while the carbon construction ensures an extremely stiff and safe structure. There's a great deal of drama about it, the nose is reminiscent of its F1 relatives, while the side mounted exhausts and wing vents are a throwback to Mercedes racers of old.
Power is enormous too, 626bhp from an AMG developed 5.5-litre supercharged V8 ensures that there's near endless acceleration. It'll reach 60mph in under four seconds and double that speed in under 11, all while offering space in the boot for plentiful luggage. Mercedes sees its role as a 'GT for the 21st century', which it manages reasonably well. But it's tricky to get settled in, the automatic gearbox proving too eager to kickdown and the brakes and steering very sensitive, too, neither offering the sort of relaxed experience you'd expect of a GT, nor the scalpel sharpness of a supercar. At over £314,000 many might consider the SLR as a pointless excess, but as a technical showcase it's undoubtedly impressive. More useable on a day-to-day basis than its similarly fast and expensive alternatives the SLR is a special car indeed, though whether it's worth almost three times as much as Mercedes' own wickedly quick SL65 depends entirely on whether you own the bank or are merely a customer.
Engines, performance and drive
0
MPG, CO2 and Running Costs
0
Interior, design and technology
0
Practicality, comfort and boot space
0